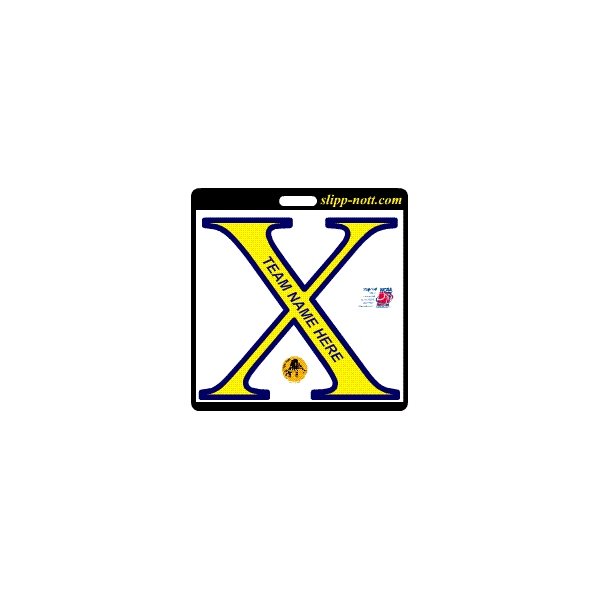 Slipp-Nott Project X Traction Base is available in large (28" x 29") and small (18" x 19").
Boost your Team Morale with Semi-Custom X Logo Slipp-Nott Traction Mat.
Show off your Team Logo through the transparent Slipp-Nott Traction Sticky Mat.
Use the X design utility above to see what your personalized Slipp-Nott sticky mat X set for your Team will look like.
Step 1: (Optional) Enter your Email and click Search Design to find your previously designed Slipp-Nott base
Step 2: Enter the name of the school, company, conference or facility you would like on your Slipp-Nott base
Step 3: Experiment with the color buttons
Step 4: Enter Quantity and choose Small or Large Option and Add to Cart
Note 1. Slipp-Nott Base is in Black color only. The X logo you designed will be mounted on the Slipp-Nott base
Don't let dirt and dust slow you down with the Slipp-Nott Base and Sheets. Used by basketball teams of all levels, this pad is designed to remove build-up from shoe soles simply by stepping on it.
Slipp-Nott invented the Sports Traction product category! Slipp-Nott Sticky Mat is the BEST and proven traction system used by professional, college, and high school basketball teams, to remove dust, dirt and wax build-up from athletic shoe soles with one quick action. You don't have to wipe the sole of your shoes anymore; instead you can improve the traction, increase the team morale, safety, confidence and maneuverability of your entire team just by walking on a Slipp-Nott X Logo Traction Mat!