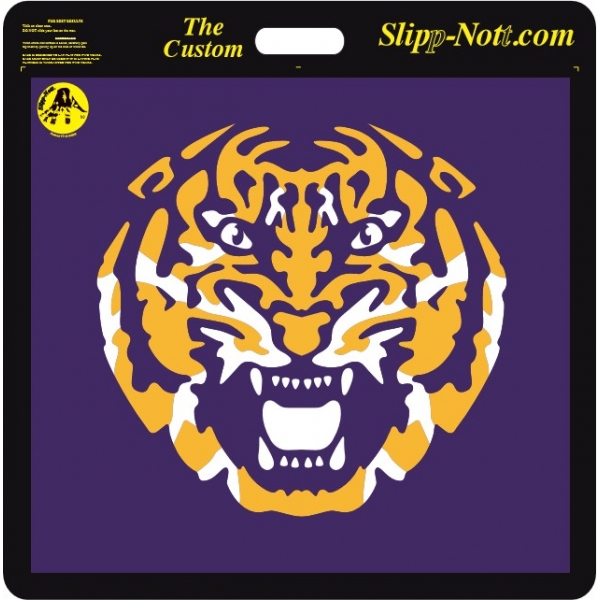 You have the opportunity to design a Slipp-Nott base like no other in the world!
The logos on these beauties are digitally printed with your artwork.

1. (Optional) Enter your Email and click Search Design to find your previously designed custom base.
2. Upload your Logo. This online designer can handle AI, EPS, and PDF formats only.
3. Design & Transform your Logo.
4. Select Quantity and Options of your base
5. Add to Cart

Available sizes: Small and Large. For 3rd party and sponsor logos please contact us.

Slipp-Nott Custom Logo Set is the perfect way to promote your team's image on the court.

First impressions will always make a difference.

Slipp-Nott Custom Logo designs combine the benefits of a Slipp-Nott Traction Mat with an eye-catching Team Logo that can enhance branding and marketing efforts. There is no finer choice than Slipp-Nott Custom Traction Mat. Slipp-Nott Custom Set with your Sponsor Logo is also the perfect way to show appreciation to your organization sponsors.

The Southern Conference shows a perfect example how to boost their team spirit!!! The Southern Conference and Slipp-Nott have reached an agreement that will make Slipp-Nott the Official Traction Mat of the Southern Conference through November 2018. Slipp-Nott traction mats will be in use at the Southern Conference Basketball Championships presented by General Shale in each of the next three seasons in Asheville, N.C. This year's tournaments are slated for March 3-7 with all of the men's and women's contests being played at the U.S. Cellular Center. Each contest will air live on ESPN3 with the exception of the men's title game, which will air live on March 7 at 9 p.m. on ESPN2.