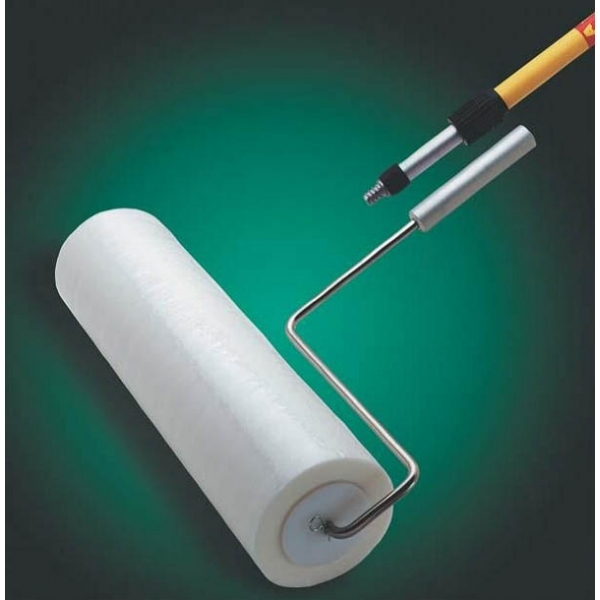 Tacky Mat Roller
Convenient to use, Sticky Mat Roller mop is quick and effective at removing various contaminating particles from floors, ceilings, walls, tabletops and other surfaces. Sticky Mat Roller is the best tool to regularly remove contaminating particles from hard to reach surfaces. The concept is similar to the common paint roller; a roller handle with a cover. The cover in this case is a roll of adhesive coated substrate that has removable sheets similar to a Tacky Mat.
The Tacky Mat Roller is very easy to use; just roll the area to be cleaned as if you were painting the wall. When the Sticky Mat Roller becomes too soiled to pick up any more contaminants, simply peel off the soiled layer and tear off at the perforations to expose a new sheet of adhesive film.
AVAILABLE IN TWO ADHESIVE MATERIALS

- FOAM ROLLER

Made from a poly film/foam laminate which
conforms to slightly irregular surfaces.

- FILM ROLLER

LDPE film on a plastic, non-contaminating core.
Roll Mop handles (sold separately) are available in 9" and 18" sizes.
- Adjustable (4' to 8') extension poles are available.
Poly Rollers
Size:
Sheets:
Core Dia.
Handle:
Perforations:
9"
180
1.5"
1.5"
5.25"
12"
60
3"
3"
11"
18"
60
3"
3"
11"
Foam Rollers
Size:
Sheets:
Core Dia.
Handle:
Perforations:
9"
20
1.5"
1.5"
11"
12"
20
3"
3"
16"
18"
20
3"
3"
16"
In addition to the 9" handle and the adjustable 12"/18" handles, we offer both an 18" fixed length extension pole and telescopic adjustable 3'-6' extension pole. Both extensions fit the 9" and the 12"/18" handles.
DOCUMENTS