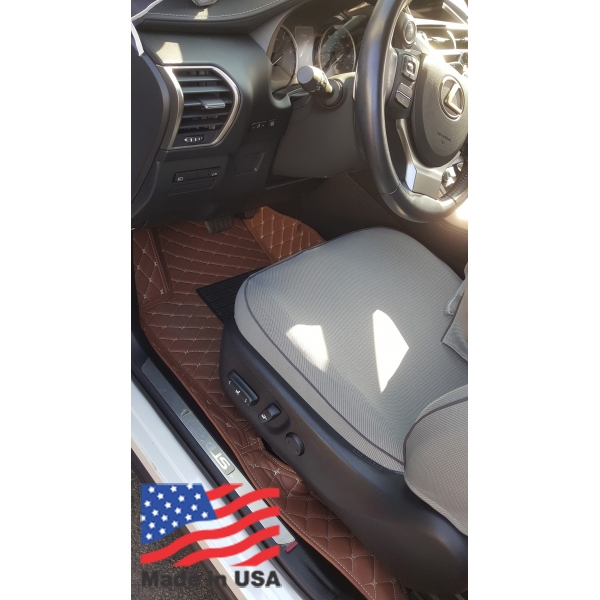 Custom Made Sanitizable Car Floor Mats Faux Leather All Weather Full Surrounding Enclosure Non Slip Heavy Duty Waterproof Carpets Car XPE Liner Black or Brown
- Choose your car model and floor mat color.
- Full set waterproof nonslip full surround all weather car floor mats, applicable for automatic/manual transmission, high-quality accessory. Left hand drive by default, please leave message to us if it is right hand drive.
- Laser Scanning Full Coverage - Special custom fit, advanced and mature custom technology for different makes and models, precisely complete cover, extra high edges, thick and shape holding, not block the accelerator for safe driving, it can protect your car better.
- Sanitizable. Car floor mat can be cleaned with alcohlol.
- Waterproof and Scratch Proof - Rainwater, cigarette ash, high-heeled shoes, spilled drinks, all of these, do not need to worry. It is waterproof, noninflammable, scratch proof, and high-quality artificial leather cover, rest assured.
- RoHS and California Proposition 65 Certification - Made of 5 layers, hard-wearing ARTICO microfiber leather + 8mm high-density thick elastic sponge + PP non-woven fabrics + 100% eco-friendly XPE + Gecko grasp non-slip backing, 4 stitches sewing. Higher-cost fire sticking process, XPE layer sticking through fire roasting not glue, more firmer and eco-friendly. It is safe for your baby sitting in car.
- Easy Installation - Installation just in seconds without any manual, just as universal car floor mats. Please feel free to contact us if any car mats requirements or queries for other makes and models.
Floor mats are custom designed and made in USA. We source the best quality raw materials, semi-manufactured goods and floor mats, we adopt higher-cost materials and manufacturing processes for your good health and driving safety. ALL car floor mats are custom-made with high quality, and for all seasons and weather.


FEATURES:

- Custom fit laser scanned original size design to make your vehicle fit well, precise cutting

- Full coverage with extra high edges, NEVER fall down and block the accelerator/brake

- Scratch resistant leather cover (NOT PVC), anti-slip backing

- 4 stitches sewing, 5 layers of material, thick and shape holding

- Made of 100% environmental-friendly 8mm thick XPE material

- Waterproof and easy clean

- Easy installation within seconds

- High quality makes your car luxurious and charming

INCLUDED:

- 1 x front row driver side car floor mat
- 1 x front row non driver side car floor mat
- 1 x rear row jointed car floor mat (2x for 2 rear rows)

NOTICE:

1. All the car floor mats are custom-made, kindly leave message to us regarding your models and manufacturing year, or VIN (Vehicle Identification Number) of your car, while purchasing it. It's necessary to double confirm the info.
2. 99% car makes and models in the marketing, we provide the floor mats for them. We have accurate size data (some others from professional data providers) from original modeling, with years of accumulation. We can provide it even if your models not listed, just provide your vehicle info.
3. For most of models, we provide both left and right hand driving, feel free to contact us if you need different direction.