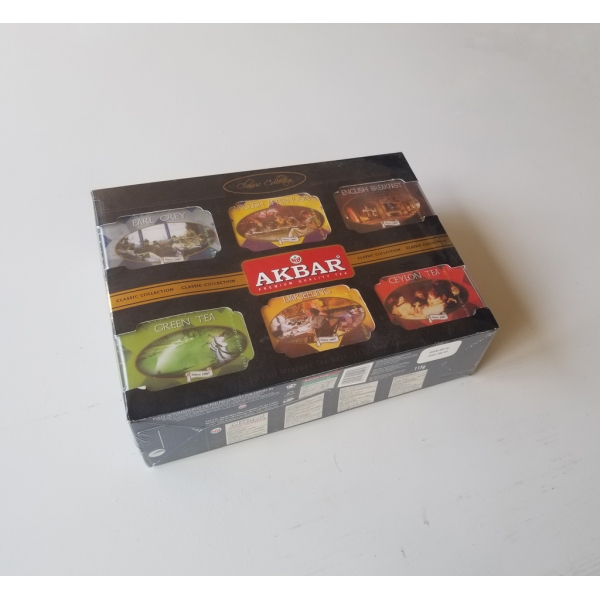 Akbar Tea Pure Ceylon Classic Collection
Six of the worlds finest teas presented in six individual packs of 10 foil wrapped sachets by Akbar Tea: Earl Grey, English Aftenoon, English Breakfast, Green Tea, Darjeeling, Ceylon Tea.
About AKBAR
AKBAR is Sri Lanka's largest tea exporter with long history.
In 1864 Shaikh Hebtulabhoy (1834-1897) migrated from India to Sri Lanka, establishing a food import/export company based in Pettah. His son, Tyeabally Shaikh Hebtulabhoy (1888-1928) established the tea company, M. S. Hebtulabhoy & Company Limited. Hebtulabhoy & Co began shipping tea overseas in 1907. In 1969 Tyeabally Shaikh Hebtulabhoy's grandsons, Abbasally (1933-2020), Abidally (1935-?) and Inayetally Akbarally (1937-?) resigned from Hebtulabhoys & Co. and established Akbar Brothers. Within three years Akbar Brothers were exporting to major tea markets in the Middle East and other parts of the world. In 1972 Akbar Brothers Limited was incorporated and their father, Shaikh Akbarally (1911-2003), retired as the chairman of Hebtulabhoys & Co. joining his sons.
What is Ceylon Black Tea?
Ceylon tea is popular among tea enthusiasts for its rich flavor and fragrant aroma.Certain types of Ceylon tea have been linked to impressive health benefits — ranging from increased fat burning to better blood sugar control and decreased cholesterol levels.
Ceylon tea refers to tea produced in the highlands of Sri Lanka — formerly known as Ceylon.
Like other types of tea, it's made from the dried and processed leaves of the tea plant, Camellia sinensis.
However, it may contain a higher concentration of several antioxidants, including myricetin, quercetin, and kaempferol.
It's also said to differ slightly in flavor. The tea's notes of citrus and full-bodied taste are due to the unique environmental conditions in which it's grown.
It's commonly available in oolong, green, black, and white Ceylon varieties — which differ based on specific processing and production methods.
Unlike China; where tea existed for centuries, Ceylon tea didn't exist until mid-19th century. Sri Lanka was famed for its coffee plantations until a fungus destroyed the crops during the colonial era, paving the way to Ceylon tea. The Chinese plant, Camellia Sinensis was planted in the Sri Lanka around 1857 and ever since, has flourished across the country. Ceylon black tea is one of the most favoured teas around the world, due to its unwavering quality as the leaves are plucked and processed using traditional methods.
Ceylon Tea Nutrition Benefits
- Ceylon Tea For Heart

Think of Ceylon black tea as your heart's knight in shining armour. With an adequate amount of potassium present in black tea, this helps to relax the tension in the arteries and blood vessels, which in turn stabilises your blood pressure and maintains it in a healthy level. A warm cup of Ceylon tea in the morning coupled with a banana (or other fruits rich in potassium) will drastically reduce the risk of heart attacks.

- Ceylon Tea For Immune System

Maintaining a healthy immune system is crucial to looking after your health and taking care of your body, as it protects your body from diseases and infections. Ceylon black tea boosts your immune system and enables the body to fight harmful viruses and bacteria, thereby protecting you from the flu, fever, cough, etc. The antioxidants present in the Ceylon black tea increases the number of white blood cells.

- Ceylon Tea For Weight Loss

Ceylon black tea has zero calories, only if its drunk sans sugar or milk. Calorie counters and weight watchers can consume Ceylon black tea – guilt free! The antioxidants found in Ceylon tea is packed with compounds known as flavonoids, which are known to have health benefits that aid in weight loss. These flavonoids cause an increase in metabolism, thereby being able to digest and break down food and fats at a much faster rate than without the consumption of tea. One cup of Ceylon tea is known to have 25mg of potassium. The presence of potassium also aids in improving blood pressure, cholesterol and maintain your heart health.

- Ceylon Tea For Skin

Achieving that goal of radiant, soft skin is only a few tea cups away! Add some Ceylon black tea to your life, which are packed with antioxidants known to battle out the free-radicals in your body. A cup of Ceylon tea prevents damage on your skin cells. Drinking black tea often will keep your skin healthy and also reduce the risk of getting skin cancer, in addition minimising the risk of wrinkles, skin blemishes and other premature aging effects.

- Ceylon Tea Possible Cancer Prevention
It should be important to first state that drinking tea daily does not stop you from getting cancer. However, regularly consuming Ceylon black tea will help minimise the risk and prevent the development and growth of cancer cells. The theaflavins and thearubigins present in black tea act as vital antioxidants in the body and special chemicals such as ECG and EGCG are known to fight free radicals, thus protecting cells from any cancerous damage.

- Ceylon Tea For Energy

Ceylon black tea keeps your energy levels up. Tea leaves are packed with minerals and vitamins that are equipped to provide enough energy to your body. With the right amount of caffeine present in Ceylon tea, your body will remain fit and active throughout the day.