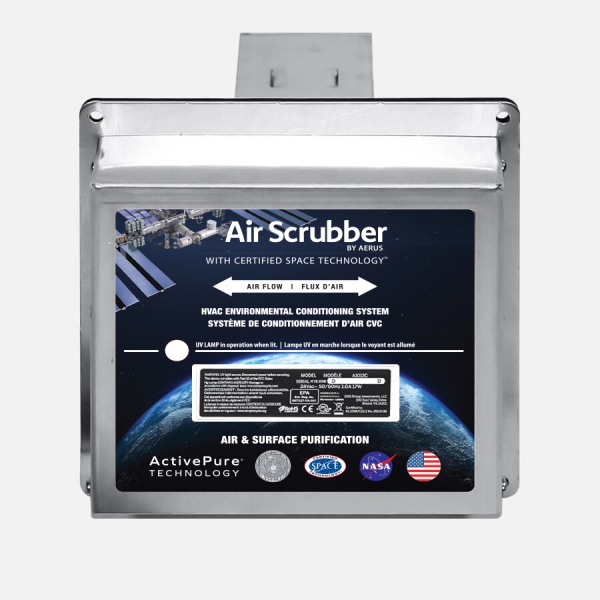 ActivePure Hydroxyl Blaster Air Scrubber by Aerus
The Air Scrubber by Aerus is a surface and air purification system designed for residential and commercial use in HVAC systems with accessible ducts. It uses our proprietary ActivePure® Technology to treat and purify indoor environment by attacking contaminants on surfaces and reducing particles in the air that can irritate allergies and asthma.
MODELS
INDUCT 500
INDUCT 750
INDUCT 2000
INDUCT 5000
INDUCT 10000
BENEFITS
Uses ActivePure® Technology to continuously attack contaminants on surfaces while purifying the air

Protects people from contaminants and pollutants in their environment

Prevents heating and cooling systems from dust buildup

Low maintenance with no cleaning required

Reduces odors and smoke visible in the air without the use of ozone

Discreet or concealed installation
SPECIFICATION
Electrical:

Input Voltage: 24 Volts; 1 Amp; 50/60 Hz. Current: 17 Watts

Mechanical:

Distribution via air handler

Operating temp:

34°F – 200°F

Dimensions:

8.5″ high x 8.5″ wide x 11″ deep

Weight:

3 lbs.

Coverage:

Up to 2,000 sq. ft. Nominal, 3,000 sq. ft. Maximum

Warranty:

Limited 5 year warranty
HVAC Application of ActivePure Air Scrubber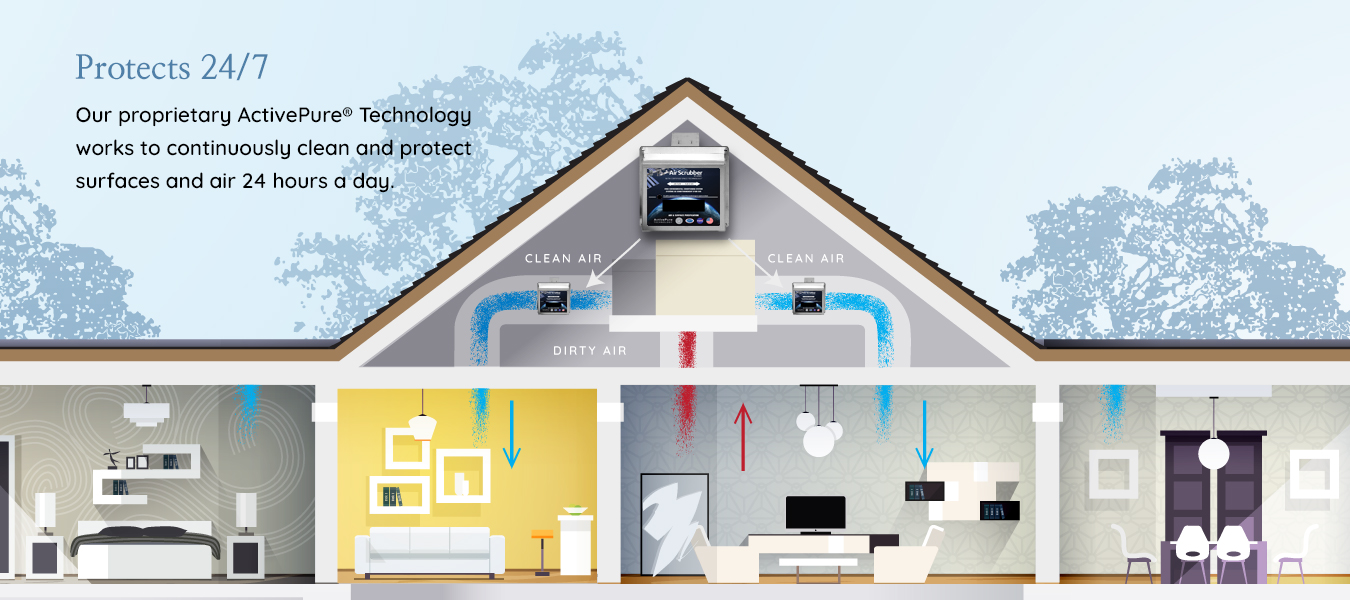 LEARN ABOUT ACTIVEPURE TECHNOLOGY
ACTIVEPURE TECHNOLOGY IS SPACE TECHNOLOGY HALL OF FAME
ACTIVEPURE TECHNOLOGY SCIENTIFIC PROOF
ACTIVEPURE TECHNOLOGY IN THE NEWS
ActivePure is the first air purifier specifically proven to reduce over 99.9% of COVID-19 on surfaces.
How Does It Work?
This air scrubber effectively reduces the presence of the coronavirus while minimizing the chances of recontamination all without putting occupants at risk. Instead of using chemicals or ozone, our air scrubber system mimics the way that nature purifies the air. It creates ActivePure Molecules (powerful oxidizers), which seek and destroy contaminants—such as COVID-19, Swine Flu, Avian Bird Flu, Hepatitis A, and more—once they are released into an indoor space.
Additional Benefits of the ActivePure Technology include:
Provides 24/7/365 disinfection
Operates quietly
Is proven safe to use in occupied spaces
Demonstrates results almost immediately
Is affordable
Quickly destroys airborne viruses, bacteria, and molds
Is space-certified and recognized in the Space Technology Hall of Fame
ActivePure ALL-IN-ONE
Vollara ActivePure Air Surface Purification Air Cleaner Air Scrubber UV Hydroxyl Blaster Air Purifier
CNBC: ActivePure seeks emergency FDA approval for air purifier to fight Covid-19
Former White House Coronavirus Task Force Response Coordinator Joins ActivePure Technology as the Chief Medical & Scientific Advisor!
Aerus ActivePure FDA 510K Premarket Notification
ActivePure Space Technology
NASA ActivePure Technology Kills 99.9%+ Covid-19 (SARS-COV-2) on SURFACES and in the AIR
Aerus Hydroxyl Blaster with ActivePure Technology Kills COVID-19 on Surfaces from ActivePure® Technologies on Vimeo.
WHY Vollara ActivePure Air & Surface Pro
The ultimate ozone free solution for a healthy home.
Give your family and friends the invaluable gift of breathing the best air quality possible with a Vollara Air & Surface Pro. This small but powerful air purifier uses ActivePure® Technology to eliminate smoke, odors, and other contaminants in the air and on surfaces.
ActivePure® Technology is based on technology originally developed by NASA for use during space travel. Now, it can be used in your own home to reduce up to 99% of airborne and surface contaminants such as allergens and bacteria.
PLUS Model - a Depart Room Function with adjustable Digital Timer increases the maximum output of activated oxygen for increased effectiveness in unoccupied areas. (NOT AVAILABLE TO CA)
There is no other product on the market like ActivePure that can prove scientifically how their technolgy protects people. The tests done on the COVID virus (the actual virus is SARS-CoV-2. The test on how it kills the airborne SARS-CoV-2 was done in a Bio Safety Lab -3 and -4. The BSL Lab -4 lab only does studies on pathogens, like Anthrax, that have no cure of any type. People get it and die. The reason the FDA did the study at the University of Texas, Medical Facility, is because SARS-CoV-2 is a dealy pathogen. There is no other product on the market that has any scientific study, much less a study from a BSL-4 lab.
WHAT IT DOES
- New & improved PATENTED ActivePure® Cell destroys over 99% of all surface and airborne contaminants faster
- Disinfects surfaces and air, removes VOCs, smoke and odors
- Freshens air and removes odors in stale environments without the use of ozone
- UVC light mimics cleansing
- Reduces dirt and dust from the air
- Positive and Negatively charged ions reduce small particles and airborne pollutants
- The Air&Surface Pro+ has one ActivePure cell and an ozone plate. Ozone only works if it is turned on.
- The Air&Surface Pro with no ozone plate has two ActivePure cells.
ADDITIONAL UNIT FEATURES
- Positive and Negative Multipoint and RF Ion Generation
- Five Speed Fan
- Maintenance Reminders
- Replaceable ActivePure® Cells
- Removable Rear Grill
- Universal Power Supply with cords
- HEPA and Activated Carbon filters
- Adjustable Purifier Control (A-PURE+ only)
- Depart Room Function w/ adjustable Digital Timer
MAINTENANCE AND REPLACEMENT PARTS
- Filter should last 5 years if maintained properly following the Maintenance Reminders.
- ActivePure Cell should replace every year if product runs 24/7. If the product is turned off at night, shoud last 2 years.
- OPTIONAL Ozone Plate replace every year. Ozone only works if it is turned on. For hotel ozone feature is perfect, room will smell fresh. There will never be any mold build up. When the customer checks out, maid service can clean the room, turn the ozone on for 30 minutes then turn it off. The room will Very good for odors and mold. Ozone feature is NOT AVAILABLE in California.
SPECFICATIONS
Technology

ActivePure® Cell (1 included)

Positive and Negative Multipoint and RF Ion Generation

Purification Plate

Electrical

00 ~ 240VAC

50/60 Hz External Power Supply

DC 24 Volts1.5 Amps Max.

Power Consumption: 43 Watts Max.

Mechanical

Nominal Airflow Rate: 40-60 CFM Fan

Dimensions

11.75" H x 9.5" W x 10" D (29.8 cm x 24.1 cm x 25.4 cm)

Weight

7.6 pounds (3.45 kg)

Operating Temperature

34ºF – 100ºF

Coverage

Covers a range of 500 sq. ft. up to 3,000 sq. ft. (42 m2 to 279 m2)*

Warranty

Limited 3 year warranty
Sanitized SURFACES & AIR Is EASY - Just Plug In and Let FDA-Cleared, NASA Technology ActivePure Start Wroking! PEACE OF MIND TECHNOLOGY!!!
Helps to Avoid:
Allergies

Breathing Issues

Helps with Compromised Immune Systems

Cold & Flu

Sinus Infections
PROVEN to KILL UP TO 99.9% of:
SARS-COV-2 (Covid-19)

RNA/DNA Viruses

Bacteria

Mold & Fungus
Size Comparion of Corona Virus, PM 2.5 Particles, and Bacteria: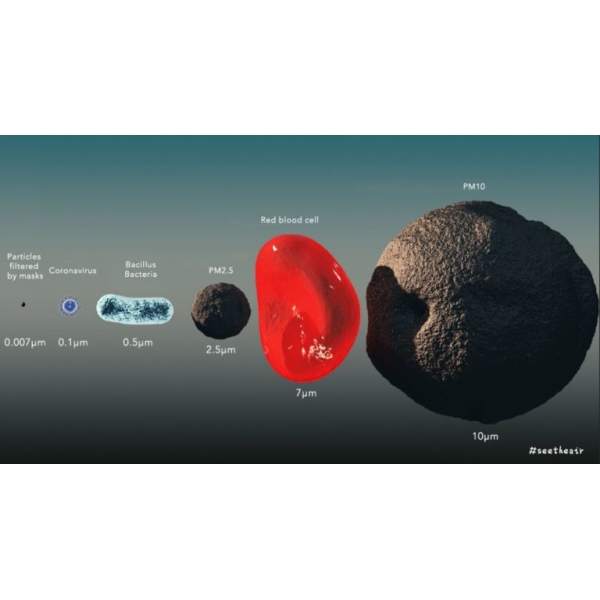 How Does ActivePure Work?
Units with ActivePure Technology pull free oxygen and water molecules in the air through ActivePure's patented honeycomb matrix. The technology creates powerful oxidizers, known as ActivePure Molecules, that are then released back into the room, where they seek and destroy DNA and RNA viruses including SARS-CoV-2 (novel coronavirus), Swine Flu (H1N1), Avian Bird Flu (H5N8), Hepatitis A (HAV) and MS2 bacteriophage, regardless of their size, on surfaces and in the air.
Testing done at MRIGlobal, an independent, FDA-Compliant laboratory.
PERCENT % Reductions measured incrementally over natural degradation of SARS-CoV-2. Outside of control group - over 99.9% reduction of SARS-CoV-2.
Average Percent SARS-CoV-2 REDUCTION ON SURFACES
3 Hours 93.27%Reduction
6 Hours 97.95%Reduction
7 Hours 99.98%Reduction, AND
Destroys 99.99% SARS CoV2 in 3 minutes in the AIR
This technology was first developed by NASA for the International Space Station. Like any nursing home facility, school, businesses and hospitals, the inhabitants i.e. Astronauts polluted the environment. The solution was much more than a HEPA filter or UV light. These things sound good but they can only sanitize what gets to the filter or UV light. With UV light the contamination must be close to the UVC light for an extended period of time to be successful. These solutions are considered PASSIVE, thus work, but for only a fraction of the contaminants.
ActivePure is different. It is ACTIVE which means it sends the SOLUTION TO THE POLLUTION. ActivePure technology creates the solution inside the technology and sends it through the facility at 1200 feet per second creating up to 99.9999% destruction of the challenge like viruses, bacteria and mold in only 1-7 hours! ActivePure is the only Hall of Fame Certified Space Technology that works continuously to clean and protect air and surfaces 24 hours a day. ActivePure has improved the quality of life for millions; it can improve yours and those you care about. It's a game changer.
INFORMATION
ActivePure SARS Covid Test results
ActivePure Technology Intro 2mins
ActivePure Technology Intro 4mins
Vollara SCIENTIFIC PROOF REDUCTION OF AIRBORNE CONTAMINANTS
Vollara SCIENTIFIC PROOF - Reduce airborne and surface contaminants
Vollara SCIENTIFIC PROOF - Case Study
Vollara SCIENTIFIC PROOF - Residential Facility MLB Hospital Case Study
Vollara ActivePure REDUCTION IN FLU AND SICK DAYS
ActivePure FDA 510K Premarket Notification
ActivePure Univiersity Peer Study
Cleveland clinic ActivePure Case Study
SpaceFoundation Hall Of Fame
ActivePure is a SpaceFoundation Hall Of Fame Technology
ActivePure is a SpaceFoundation Space Certification Technology Product
What is Radiant Catalytic Ionization (RCI) ?
RCI is the origin of ActivePure - an enhanced technology creating hydroxyls through photocatalytic oxidation

In the mid-1990s, scientists at a NASA Research Partnership Center in Wisconsin were working on improving methods of growing plants in space. The work was accomplished by the NASA-funded Wisconsin Center for Space Automation and Robotics, or WCSAR, one of many universities or research centers partnering with industry to work on NASA directed research programs.
Researchers there, with the help of the Space Product Development Program at NASA Marshall Space Flight Center, were trying to solve the problem of build-up of ethylene gas around plants grown in the closed environment of spacecraft, which caused premature plant decay and spoilage.

To combat this, the group developed an 'ethylene scrubber' using the existing principle of photocatalytic oxidation where UV lighting and titanium dioxide are used to break down organic compounds like ethylene.
The WCSAR team worked to create a system that could function in a space environment, no simple task. The first device was successfully flown and operated on Space Shuttle Columbia in 1995, proving the system could work in helping to grow plants in a space environment.

The ActivePure family of products was designed around the concept that was proven by the NASA-funded team. While there are similar products, the Aerus team took the concept of the space-based ethylene scrubber and further developed the technology to build a family of products that benefit people in their everyday life.

ActivePure has been validated in numerous case studies, proving the technology dramatically reduces concentrations of airborne aerosol contaminants, neutralizing viruses and bacteria, and wiping out infectious germs and viruses including the likes of methicillin-resistant staphylococcus aureus (MRSA).

ActivePure devices have been installed in facilities where there is high risk for contaminates; schools, hospitals, restaurants and even several Major League Baseball teams' locker facilities. Once installed, testing showed bacteria counts and air particles were dramatically reduced.

Photocatalytic oxidation may trace its roots to the space program, and potentially clean air and water for astronauts on future deep-space exploration missions, but the most important impact is in improving everyday life on Earth.
FREQUENTLY ASKED QUESTIONS

Q. I understand ActivePure® Technology is powerful, effectively destroying bacteria, viruses and pathogens, but is it safe enough for everyone?
A. Yes, the Air Scrubber by Aerus with ActivePure® Technology is safe for everyone including newborn babies and pets.
Q. Could this Technology be dangerous or cause any long-term side effects?
A. No, ActivePure® Technology is not dangerous. Our products are specifically engineered to purify indoor living environments. Long-term side effects of living in cleaner spaces and being protected from exposure to harmful contaminants should be beneficial. In fact, our customers have reported many lifechanging benefits including improved health, productivity, and well-being.
Q. Is it possible for indoor air to be too pure?
A. No. Based on air leakage within all homes and general daily traffic, you cannot obtain too pure of an indoor environment. UNIQUE FEATURES OF THE AIR SCRUBBER BY AERUS:
• Attaches to the existing heating and cooling system
• Uses our proprietary ActivePure® Certified Space Technology™
• Destroys up to 99% of surface and airborne contaminants
• Significantly reduces dust, pet dander and odors
• Protects your HVAC system from possible dust buildup
• Improves indoor air quality for healthier living environments• Covers up to 3,000 sq. ft.

Q. According to EPA guidelines what is a safe indoor air particle count?
A. The particle count reading should be less than 1 µg/m³ in order to meet EPA guidelines, which is virtually impossible to achieve outside of a clean room. Our ActivePure® Technology will get you close.
Q. I like to open my windows when it is nice outside. What effect will this have on the air quality in my home?
A. Open windows promote the passage of outside contaminants into your home, compromising the level of air quality and purification the Air Scrubber by Aerus works to create and maintain. It is recommended to turn off the HVAC system while windows are left open.
Q. How effective is the Air Scrubber by Aerus' ActivePure® Technology in larger buildings? My home is quite spacious. Do I need more than one unit installed in various locations?
A. The Aerus Air Scrubber covers up to 3,000 sq. ft. If you have separate A/C systems operating throughout your home, each additional system will require its own unit.
NOTE
Depends on variables such as severity and frequency of pollution, humidity, and temperature.
MEETS CALIFORNIA OZONE EMISSIONS LIMIT. CARB CERTIFIED
Published scientific studies conducted on behalf of Vollara at Kansas State University demonstrated that Vollara's ActivePure® Technology substantially reduces contaminants on surfaces.
These results have not been evaluated by the FDA. This product is not a medical device intended to diagnose, treat, cure, or prevent any disease.