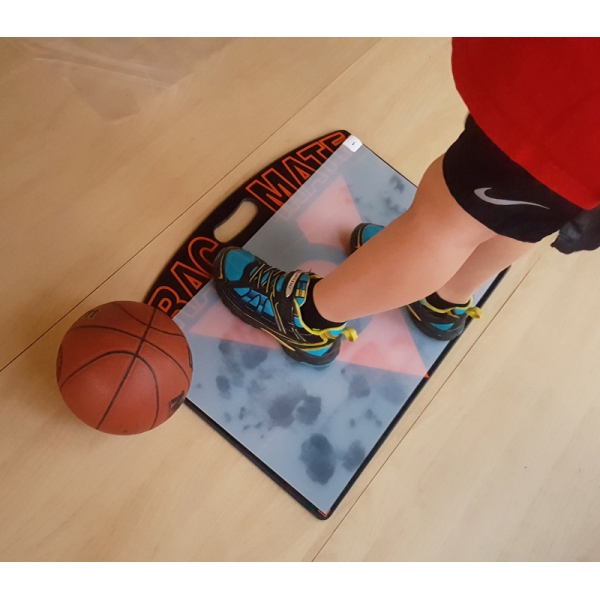 Slipp-Nott Basketball Sticky Mat Wider Medium TRACMATE 50 Sticky Sheets Narrow Sideline
Slipp-Nott Basketball Sticky Mat Wider Medium TracMate Step on and Step Off as our Traction Pad Removes Dirt, Dust, and Oil from Shoes. Cleans your Shoes Allowing Better Traction.

USES PEEL AWAY STICKY SHEETS -- Includes 50 Sticky Sheets (14" by 23"). Replacement Sheets available on Amazon - Search Slipp-Nott Sticky Sheets.

Typical basketball game usage is 2-5 sheets Ideal for use at facillites that have narrow sidelines. Base: 17.25″ x 23.75″ x 5/16″ thick. Mat: 14″ x 23″ with 50 sheets total.

Used By Professional, College, and High School Basketball/Volleyball/Tennis Teams Removes dust, dirt and wax build-up from athletic shoe soles with one quick action!

Increases safety and performance of any athlete needing traction on smooth indoor floors

Slipp-Nott is registered brand on Amazon; We are hardworking and customer-oriented and we always considers customer satisfaction as our top priority. If you are not satisfied with the product for any reason, just let us know, and we will help.
Since 1987, Slipp-Nott has set the world standard for indoor traction and can be seen used at the most televised Basketball games. Slipp-Nott is a time-proven traction and safety system for sports played on Hardwood and waxed floors including Basketball, volleyball, Handball, indoor soccer, racquetball, floor ball, Hockey, squash, badminton, table tennis, aerobics, fitness, fencing, cheer leading, stretching, floor exercise, fitness centers. Slipp-Nott uses special adhesive material which leaves no sticky residue and does not harm skin, shoes, or floor. Slip-Nott increases safety and performance of athletes needing traction on smooth indoor floors. Refill Slip-Nott bases with Slip-Nott replacement mats. Slip-Nott can be transported from courts to courts with the ergonomic easy to carry handle. Slip-Nott is the best and proven traction system used by professional, college, and high school Basketball teams to remove dust, dirt and wax build-up from athletic shoe soles with one quick step and grip action. You don't have to wipe the sole of your shoes anymore; instead you can improve the traction, increase the safety, confidence and maneuverability of your Entire team just by walking on a Slip-Nott! Traction Board comes with one 50 Sheets Slipp-Nott Sticky Mat,