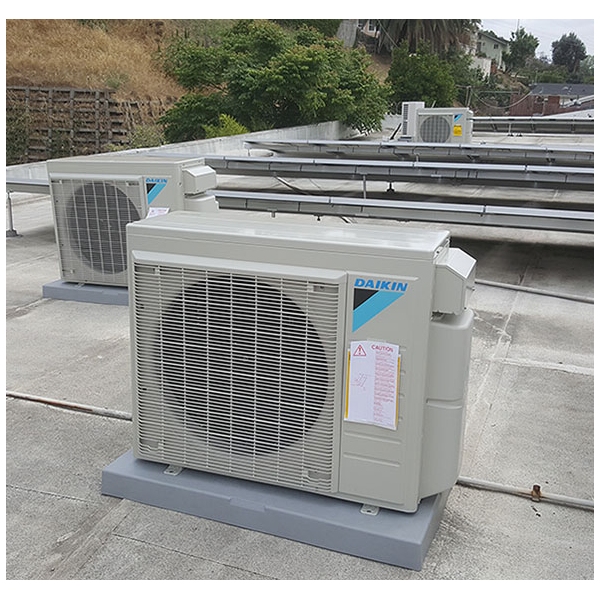 Daikin Mini Split AC Heat Pump PLUS Installation
Daikin mini-split heat pump condenser supports two to four indoor units operating simultaneously, allowing you to build the ideal system type to fit your home's specific needs.

A broad range of accessories are availabile to add to your system as well, which when combined with Daikin's extensive experience with building efficient units provides a solution to any home's heating and cooling needs.
Multi Zone (Ductless)

Homeowners fight over temperatures in their homes and have rooms that go unused for long periods. Now they can save energy and control temperatures independently in up to eight separate zones, with a single outdoor unit. With available wall-mounted, concealed slim-duct, ceiling cassette, and floor-mounted indoor options, Daikin Multi-Zone Systems offer multiple indoor unit styles to meet all home comfort needs.
Heat or cool multiple spaces independently with 1 outdoor unit

Great installation flexibility and a wide choice of styles.
Wide range of outdoor units to which up to 8 indoor units can be connected.
All indoor units can be individually controlled.
The discrete, robust outdoor unit can easily be mounted onto a roof or terrace, or simply to the outside wall.
It is possible to combine different types of indoor units.
Product Features

Reactive Temperature Monitoring

Daikin ductless systems do not require any setting changes to keep your home comfortable on a hot or cool day. Once you set a temperature for the system to maintain, the system automatically adjusts output levels according to environmental conditions.

Inverter Technology Prevents Temperature Fluctuation

Daikin mini-split heat pump unit comes with inverter technology. This works together with the expansion valve to adjust coolant flow and compressor speed to match indoor conditions. This results in less dramatic temperature swings and a more comfortable home.

Design Your System from the Ground Up

Daikin mini-split heat pump outdoor condenser is compatible with wall mounted, concealed duct, floor mounted, and ceiling cassette indoor units, allowing you to mix and match unit types to design a system that perfectly matches your home's needs.

Low Ambient Cooling

MXS condensers will continue to operate optimally even in colder climates. With an operational cooling range down to 14°F, and a heating range down to 5°F, the MXS can provide heating or cooling in any enviroment.

Product Compatability

Daikin CTXS Wall Mounted Indoor Units

Daikin FTXS Wall Mounted Indoor Units

Daikin FDXS Concealed Duct Indoor Units

Daikin FFQ Ceiling Cassette Indoor Units

Daikin FVXS Floor Mounted Indoor Units

Product Note

Each indoor unit will include any port adapters necessary for multi-zone installation. This product requires at least two compatible Daikin mini split indoor units and the following accessories for installation:

Line Set - This double insulated tubing transfers refrigerant efficiently between your outdoor condenser and indoor units.

Drain Tubing - Drain tubing facilitates the reliable and effective removal of condensate from your system. It connects your indoor units to drain locations of your choosing..

Disconnect Box & Electrical Whip Kit - The Disconnect Box & Whip Kit provides a safe and simple way to connect your outdoor condenser to your fuse box.

Connecting Wire - This durable, insulated wire provides power to your indoor units from your outdoor condenser.

Outdoor Condenser Plastic Pad (Optional) - This pad provides an even surface, free of debris, on which to place your outdoor condenser.

Wall Bracket (Optional) - A simple and sturdy way to mount your outdoor condenser off of the ground.