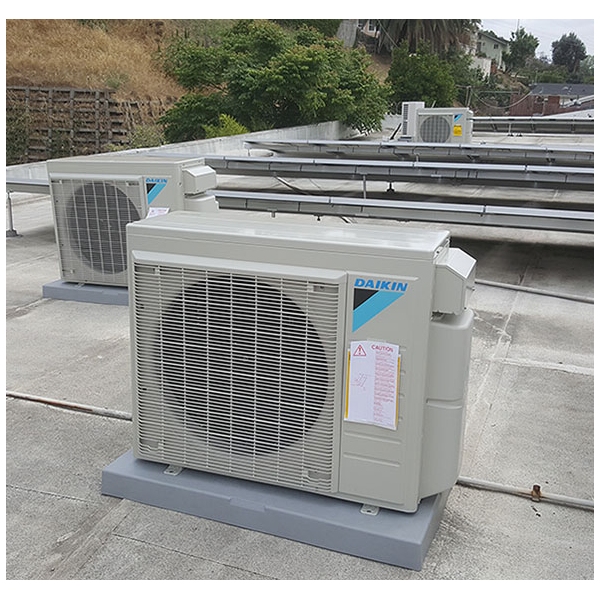 Daikin Mini Split INVERTER AC Heat Pump
Daikin mini-split heat pump condenser supports two to four indoor units operating simultaneously, allowing you to build the ideal system type to fit your home's specific needs.

A broad range of accessories are availabile to add to your system as well, which when combined with Daikin's extensive experience with building efficient units provides a solution to any home's heating and cooling needs.
Multi Zone (Ductless)

Homeowners fight over temperatures in their homes and have rooms that go unused for long periods. Now they can save energy and control temperatures independently in up to eight separate zones, with a single outdoor unit. With available wall-mounted, concealed slim-duct, ceiling cassette, and floor-mounted indoor options, Daikin Multi-Zone Systems offer multiple indoor unit styles to meet all home comfort needs.
Heat or cool multiple spaces independently with 1 outdoor unit

Great installation flexibility and a wide choice of styles.
Wide range of outdoor units to which up to 8 indoor units can be connected.
All indoor units can be individually controlled.
The discrete, robust outdoor unit can easily be mounted onto a roof or terrace, or simply to the outside wall.
It is possible to combine different types of indoor units.
Product Features

Reactive Temperature Monitoring

Daikin ductless systems do not require any setting changes to keep your home comfortable on a hot or cool day. Once you set a temperature for the system to maintain, the system automatically adjusts output levels according to environmental conditions.

Inverter Technology Prevents Temperature Fluctuation

Daikin mini-split heat pump unit comes with inverter technology. This works together with the expansion valve to adjust coolant flow and compressor speed to match indoor conditions. This results in less dramatic temperature swings and a more comfortable home.

Design Your System from the Ground Up

Daikin mini-split heat pump outdoor condenser is compatible with wall mounted, concealed duct, floor mounted, and ceiling cassette indoor units, allowing you to mix and match unit types to design a system that perfectly matches your home's needs.

Low Ambient Cooling

MXS condensers will continue to operate optimally even in colder climates. With an operational cooling range down to 14°F, and a heating range down to 5°F, the MXS can provide heating or cooling in any enviroment.

Product Compatability

Daikin CTXS Wall Mounted Indoor Units

Daikin FTXS Wall Mounted Indoor Units

Daikin FDXS Concealed Duct Indoor Units

Daikin FFQ Ceiling Cassette Indoor Units

Daikin FVXS Floor Mounted Indoor Units

Product Note

Each indoor unit will include any port adapters necessary for multi-zone installation. This product requires at least two compatible Daikin mini split indoor units and the following accessories for installation:

Line Set - This double insulated tubing transfers refrigerant efficiently between your outdoor condenser and indoor units.

Drain Tubing - Drain tubing facilitates the reliable and effective removal of condensate from your system. It connects your indoor units to drain locations of your choosing..

Disconnect Box & Electrical Whip Kit - The Disconnect Box & Whip Kit provides a safe and simple way to connect your outdoor condenser to your fuse box.

Connecting Wire - This durable, insulated wire provides power to your indoor units from your outdoor condenser.

Outdoor Condenser Plastic Pad (Optional) - This pad provides an even surface, free of debris, on which to place your outdoor condenser.

Wall Bracket (Optional) - A simple and sturdy way to mount your outdoor condenser off of the ground.
Why Choose a Ductless System?
Ductless systems, or "mini-splits," are a convenient, economical and energy-efficient air conditioning and heating solution that can be used in one room or easily expanded to multiple rooms. Installing or expanding an HVAC system can be daunting and expensive with all the ductwork that has to be completed. With a ductless system you only need to run small refrigerant line sets from an outdoor unit directly to the indoor unit in rooms you want to heat or cool. Installation is faster, requires less labor and is less disruptive to your home or business. Traditional ducted systems can be highly inefficient as more than 30% of energy can be wasted through duct loss as air travels to its destination. Ductless systems, on the other hand, avoid this energy loss. Since you can also set up and control individual zones, you can save money by only heating or cooling rooms you occupy. With highly efficient inverter systems and the condenser stationed outside, ductless systems are also a quiet solution. Ductless systems can be an energy-saving, cost-effective solution for a variety of applications:
• New construction and renovations
• Homes and businesses
• Single or multi family
• Primary living areas
• Rooms that are always too hot or too cold
• Basements, attics, garages, additions W
What is a BTU?
A BTU is the basic measurement used for rating how much energy it takes to produce heat. It's used in determining the efficiency of air conditioning equipment, furnaces, and any appliances that heat—such as water heaters, ovens, and fireplaces.

A BTU, short for British Thermal Unit, is a standardized measurement of energy. Technically, 1 BTU is roughly equal to the amount of energy required to raise 1 pound of water 1 degree F.

In North America, the BTU is used to describe both the heat content of fuels and the power of heating and cooling appliances such as furnaces, air conditioners, water heaters, stoves, fireplaces, and barbecues. When used as this type of measurement, the term "BTU" actually refers to BTUs per hour (BTU/h).

When buying a heating or cooling appliance, be sure you understand whether the stated BTU capacity refers to the unit's input or output. An input BTU refers to the fuel used; an output BTU measures the heat (or cooling) created.
What is a SEER?
SEER stands for Seasonal Energy Efficiency Ratio. Air conditioner units with high SEER ratings use less electricity to get your home to a comfortable temperature, reducing your energy or gas bill.

Mathematically speaking, a unit's SEER rating is calculated by dividing the annual cooling output (measured in BTUs) by the total electric energy input (measured in kilowatt-hours)—in other words, dividing the amount of cool air the a/c generates by the number of kilowatts it takes to generate it.

The relationship between SEER ratings and efficiency doesn't necessarily mean that you choose an a/c unit with the highest SEER rating you can find. There are other factors that may determine what SEER rating is best-suited for your home and overall HVAC system.

First, it's important to note that a SEER rating signifies the maximum efficiency a particular unit can reach. It doesn't mean that the unit will operate at that efficiency all of the time or even some of the time. For example, a top-of-the-line 20 SEER unit that's far too large for the house it's cooling is unlikely to ever perform at a higher rating than a more appropriately-sized unit, even one with a lower SEER rating. Knowing how the geography and climate of your area impact efficiency can ensure you don't overpay for a higher SEER rating than you need.

You'll also want to consider variables like your budget, your home size, how often your a/c is running, and how much time you spend at home. All of these factors can affect the necessary efficiency of the unit you choose.
What should I look for when buying a room air conditioner?
What Size Air Conditioner Do I Need?
If you are looking for a new air conditioner, it can be intimidating to review all the different options out there. One of the first things, and perhaps the most important, is to identify what size air conditioner you should get to meet your home's cooling needs. Efficiency is often top of mind, but just as important is making sure you get the right sized system that will also work effectively.

There are a variety of reasons you want to make sure to find the appropriately-sized air conditioner:
Keeping the suitable humidity – Air conditioners not only aide in keeping your indoor temps cool, but it also works to lessen humidity. If your system is too big, probabilities are it will meet the desired temperature too fast to address the humidity levels.

Maintaining energy bills – While a system that is too small might keep up with cooling your house, you are forcing it to work more frequently or possibly constantly. This isn't going to help your energy bills. You may have saved on initial costs for the equipment, but it won't offer savings moving forward.

Allowing proper cycling – If you select a system that is too big for your house, it will quickly cool down your house and shut off, not allowing your air conditioner to run through the proper cycling. This can also impact your energy bills, because your air conditioner will be turning on and off constantly.
Find the correct cooling capacity for your room size
With the cooling capcity chart, find your room's square footage in the "Area To be Cooled (square feet)" column, then use the "Capcity Needed (BTUs per hour)" column to choose the correct cooling capacity for your room air conditioner. Cooling capacity is shown in British thermal units (BTUs) per hour.
| Area To Be Cooled (square feet) | Capacity Needed (BTUs per hour) |
| --- | --- |
| 100 up to 150 | 5,000 |
| 150 up to 250 | 6,000 |
| 250 up to 300 | 7,000 |
| 300 up to 350 | 8,000 |
| 350 up to 400 | 9,000 |
| 400 up to 450 | 10,000 |
| 450 up to 550 | 12,000 |
| 550 up to 700 | 14,000 |
| 700 up to 1,000 | 18,000 |
| 1,000 up to 1,200 | 21,000 |
| 1,200 up to 1,400 | 23,000 |
| 1,400 up to 1,500 | 24,000 |
| 1,500 up to 2,000 | 30,000 |
| 2,000 up to 2,500 | 34,000 |
| 2,700 | 36,000 |
1 RT = 12000 BTU/hr
2 RT = 24000 BTU/hr
3 RT = 36000 BTU/hr
4 RT = 48000 BTU/hr
5 RT = 60000 BTU/hr
DOCUMENTS
What should I look for when buying a room air conditioner?
CA Energy Comission 2019 Residential HVAC Overview
Daikin 1 TON 12000 BTU 17 SEER ftxb12axvju rxb12axvju Submittal
Daikin 18000 BTU DUAL ZONES 2MX18AXVJU Submittal