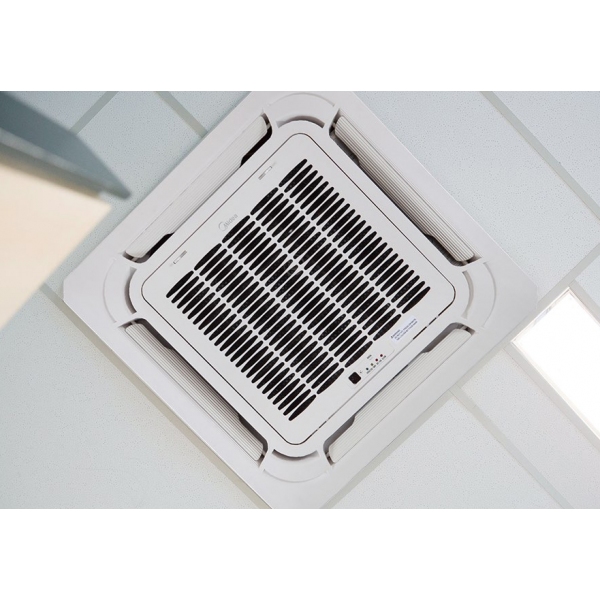 LOT Midea Premier Hyper Series Ceiling Mount Indoor Mini-Split Multi-Zone Ceiling Cassette DC Inverter
Midea MEHSU-18CHC2 Premier Hyper Cassette Indoor Unit 18,000 Btu/h

BTU Cooling Rating: 16000 Btu/h
BTU Heat Rating: 18000 Btu/h
Collection: Premier Hyper Series
Decibel Rating dB : 44 dB
Energy Star Compliant: Yes
Green: [Yes, Energy Star]
Installation Type: Ceiling Mount
Width: 33-27/100 in
Midea MCHU-18AVH2 18000 Btu 230V Outdoor Unit
Oasis Energy Star Rated 230v HP condenser
33-1/4 w x 13-1/4" d x 27-3/8" h
21 seer 12.5 eer 9.5 hspf
Operating amps 6.3 heating
Min Circuit 13
Fuse Size 20
Weight 119#
1/2" Refrigerant 1/4" liquid Flare connection
Why Choose a Ductless System?
Ductless systems, or "mini-splits," are a convenient, economical and energy-efficient air conditioning and heating solution that can be used in one room or easily expanded to multiple rooms. Installing or expanding an HVAC system can be daunting and expensive with all the ductwork that has to be completed. With a ductless system you only need to run small refrigerant line sets from an outdoor unit directly to the indoor unit in rooms you want to heat or cool. Installation is faster, requires less labor and is less disruptive to your home or business. Traditional ducted systems can be highly inefficient as more than 30% of energy can be wasted through duct loss as air travels to its destination. Ductless systems, on the other hand, avoid this energy loss. Since you can also set up and control individual zones, you can save money by only heating or cooling rooms you occupy. With highly efficient inverter systems and the condenser stationed outside, ductless systems are also a quiet solution. Ductless systems can be an energy-saving, cost-effective solution for a variety of applications:
• New construction and renovations
• Homes and businesses
• Single or multi family
• Primary living areas
• Rooms that are always too hot or too cold
• Basements, attics, garages, additions W
What should I look for when buying a room air conditioner?
Find the correct cooling capacity for your room size
With the cooling capcity chart, find your room's square footage in the "Area To be Cooled (square feet)" column, then use the "Capcity Needed (BTUs per hour)" column to choose the correct cooling capacity for your room air conditioner. Cooling capacity is shown in British thermal units (BTUs) per hour.
| Area To Be Cooled (square feet) | Capacity Needed (BTUs per hour) |
| --- | --- |
| 100 up to 150 | 5,000 |
| 150 up to 250 | 6,000 |
| 250 up to 300 | 7,000 |
| 300 up to 350 | 8,000 |
| 350 up to 400 | 9,000 |
| 400 up to 450 | 10,000 |
| 450 up to 550 | 12,000 |
| 550 up to 700 | 14,000 |
| 700 up to 1,000 | 18,000 |
| 1,000 up to 1,200 | 21,000 |
| 1,200 up to 1,400 | 23,000 |
| 1,400 up to 1,500 | 24,000 |
| 1,500 up to 2,000 | 30,000 |
| 2,000 up to 2,500 | 34,000 |
| 2,700 | 36,000 |
1 RT = 12000 BTU/hr
2 RT = 24000 BTU/hr
3 RT = 36000 BTU/hr
4 RT = 48000 BTU/hr
5 RT = 60000 BTU/hr
Midea Ductless Advantages
- Inverter Technology Unlike traditional compressors that turn on and off multiple times, Midea inverter compressors feature variable power that automatically adjusts the running speed to maintain the desired temperature. That way, a Midea unit runs quietly and features significant energy savings.
- ENERGY STAR® Recognition Full DC Inverter technology in the Premier Series not only allows for quieter operation but also delivers industry leading efficiency. In fact, 70% of our Premier series models are ENERGY STAR rated.
- Broad Temperature Range A Midea ductless system can be an ideal primary heating and cooling source. Our hyper heating models provide low temperature heating to a frigid -220F, with up to 90% of rated capacity at -130F, and cooling even when temperatures reach as high as 1220F.
- Universal Single and Multi-Zone Matching* With multiple configurations and capacities available, you'll find the ideal combination for any single or multi-zone application. With our Premier Series' universal matching you can easily connect 1, 2, 3, 4 or 5 indoor units of all styles to a single outdoor unit to create zones that can each be kept at a specific temperature. *Applies to Premier Hyper 9 ~ 24,000 BTU models, corresponding system condensers
- Quality and Reliability World-class engineering, start-of-the-art manufacturing facilities and rigid adherence to quality control standards have propelled Midea to our position as the world's leading manufacturer of air conditioners and home appliances.
ABOUT MIDEA
Midea is established in 1968, Midea (SZ:000333) is a publicly listed and, ranked as a Forbe's Global Fortune 500 company (#253). Midea offers one of the most comprehensive ranges in the home appliance industry. Midea is headquartered in Southern China, but is a truly global company with over 150,000 employees and operations in more than 195 countries.
Midea's brand promise is "to provide surprisingly-friendly solutions for the ones who treasure those tiny moments at home" and recently launched its new motto: "Midea - make yourself at home".

Midea has also landed several high-profile projects, most recently the 2016 win to install sophisticated HVAC (Heating Ventilation Air Conditioning) solutions in all 12 stadiums for sports games in Brazil. Midea is a strong supporter of sport and the proud official sponsoring partner of FINA, the World's Swimming Federation.



Documents
Midea Premier Installation Instruction
Midea Premier Technical Document
CA Energy Comission 2019 Residential HVAC Overview