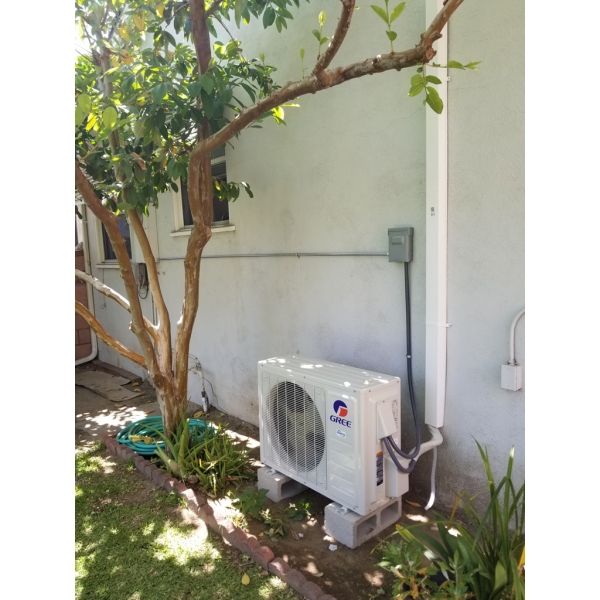 Gree WiFi LIVO Wall Mount Ductless Mini Split Air Conditioner Heat Pump Cooling Heating Inverter
12000 BTU With ONE AIR HANDLER PLUS 15 feet LINE SET 115v
Outdoor Condenser Model: LIVS12HP115V1BO
Indoor Wall Mounted Air Handler Model: LIVS12HP115V1BHW
Wireless Remote Control
Required, but not included: 1/4" x 3/8" line set
18000 BTU With ONE AIR HANDLER PLUS 15 feet LINE SET 220v
24000 BTU With ONE AIR HANDLER PLUS 15 feet LINE SET 220v
36000 BTU With ONE AIR HANDLER PLUS 15 feet LINE SET 220v
Refrigerant R-410A (which contains only fluorine) does not contribute to ozone depletion.
The new LIVO+ Wall Mount units are the latest addition to the Gree comfort family. These 16-SEER heat pump systems are built around Gree's G10 Inverter and variable compressor technology, using environmentally friendly R410A refrigerant.
Each Livo+ mini-split indoor unit is designed to heat and cool a single room, and will blend seamlessly into any decor. It features built-in Wi-Fi allowing you to be able to control your unit from your smartphones or tablets anywhere, as long as you have Wi-Fi access.
Features & Benefits:
G10 Inverter Technology
Built-in Wi-Fi
I FEEL Function
Multiple Fan Speeds
Sleep Mode
Blue Fin Condenser Coil
Dehumidification
Timer
Intelligent Preheating
Automatic Operation and Restart
Low Voltage Start-Up
Self-Diagnosis
Vertical Auto Swing
LED Display
Control Lock
Fan Delay
Cooling Range from 0 to 115°F
Heating Range from -4 to 75°F
5 year limited warranty
Please Note: Mini-Split Systems must be installed by a State Licensed HVAC Contractor for warranty eligibility.
Which line set kit do I need?
This system uses (1) 1/4" x 3/8" line sets. These are sold separately, and you can choose from our 15 ft, 25 ft, 35 ft, and 50 ft lengths. The length needed depends on the needs of your project and how you will set up the system (distance from outdoor condenser to indoor air handler).
Can I install this myself?
While installation of a ductless split is much easier than a central air system, it's still much more advanced than installing a window unit or portable. Furthermore, the manufacturer warranty is only valid if a licensed professional does the installation.
WiFi Air Conditioning control concepts

Smart Air Conditioners with WiFi connectivity that connects to a local network Wifi (LAN or WLAN). Air Conditioners with WiFi connectivity (WiFi control adapter) that connect to the Internet in what is called "cloud" operation.
Gree WIFI compatible system. Managing your comfort has never been easier, thanks to the highly advanced WIFI control capabilities built into your Gree system. With the intuitive, easyto-use GREE+ smartphone app, you can control your Gree Heat Pump and Air Conditioner – all from your phone.
What should I look for when buying a room air conditioner?
Find the correct cooling capacity for your room size
With the cooling capcity chart, find your room's square footage in the "Area To be Cooled (square feet)" column, then use the "Capcity Needed (BTUs per hour)" column to choose the correct cooling capacity for your room air conditioner. Cooling capacity is shown in British thermal units (BTUs) per hour.
Indoor Unit Sizing Guide
| | |
| --- | --- |
| 6,000 BTU | 150 – 300 sq ft |
| 9,000 BTU | 300 – 500 sq ft |
| 12,000 BTU | 400 – 650 sq ft |
| 15,000 BTU | 500 – 800 sq ft |
| 18,000 BTU | 600 – 1,000 sq ft |
| 24,000 BTU | 800 – 1,300 sq ft |
1 RT = 12000 BTU/hr
2 RT = 24000 BTU/hr
3 RT = 36000 BTU/hr
4 RT = 48000 BTU/hr
5 RT = 60000 BTU/hr
WHY DUCTLESS
- Energy Efficiency
- Easy and Economical Installation
- Quiet Operation
- Indoor Air Quality Improvement
- Zoned Comfort
WHY GREE
- MOST Efficient HVAC on the market
- SUPER Easy installation
- Preferred HVAC brand of top contractors
- Qualifies for most energy rebates
- Reliable Technical/Warranty Support
These systems are amazing. They adjust their speed and energy consumption to how much actual demand there is. Instead of cycling "full on/full off" they cut back, almost to a "crawl" once the space has reached the set temperature, using almost no electricity.
PRODUCT HIGHTLIGHT
15 FEET LINESET KIT INCLUDED OR SOLD SEPERATELY

Parts Warranty (Years) 5 Compressor Warranty (Years) 7 PLEASE CONFIRM WITH MANUFACTURER

These 16-SEER heat pump systems are built around Gree's G10 Inverter and variable compressor technology, using environmentally friendly R410A refrigerant.

Low voltage start-up, Quiet operation , Auto Restart The model automatically restarts when there are any issues such as a power outage.

Smart 1 Hertz Inverter Tech, Memory Function
ABOUT GREE
GREE is an HVAC equipment brand owned and manufactured by GREE Electric Appliances Company of Zhuhai (Est. 1991). GREE's product-line includes residential and commercial air conditioners, from ductless-split, single and multi-zoned, PTACs, window units and dehumidifiers to VRF (Variable Refrigerant Flow) units. ​
GREE is headquartered in Guangdong Province, the HVAC manufacturing capital in China. It's the largest residential air conditioner manufacturer. Globally, 1 in 3 Air Conditioners is manufactured by GREE.
With a full breadth of product offerings GREE is the superior choice in your building's heating and air conditioning needs. We offer a full line of residential products to bring you comfort in your home and change the climate of your world. The GREE VRF Commercial line provides the best in energy efficient and cost saving solutions for your construction needs. With innovative technologies including solar and Ultra Heat options the GREE and Tosot brands are the best options in the duct free world.
GREE HISTORY
GREE Electrical Appliances, Inc. was founded in 1991 in Zhuhai, China, a high-tech hub and scenic tourist destination. Since then we've become a global leader in heat pumps, air conditioners, duct free mini splits and VRF introducing some of the most advanced commercial and residential technology ever created.Nowadays, GREE has 9 production bases around the world, 7 are located in China, another 2 in Brazil and Pakistan, with more than 70,000 employees. GREE has won the bidding for many international projects, including 2008 Beijing Olympic Games, "2010 FIFA World Cup" in South Africa, 2010 Asian Games in Guangzhou and 2014 Winter Olympic Games in Sochi, Russia. GREE has created and promoted the Tosot residential brand to lead the market in home climate control. To date GREE has filed over 15,000 patents.
GREE is a high-end air conditioner top brand developed by GREE Electric Appliances of Zhuhai. GREE is the world's largest specialized air conditioning listed enterprise. Globally, 1 in 3 Air Conditioners are manufactured by GREE. GREE brand air conditioners are sold in over 100 countries and regions. In 2013, GREE sales revenue exceeded 19 billion USD. Since 2005, GREE has topped No.1 in production and sales volume for 9 consecutive years, with over 300 million users all across the world.
With the advanced inverter technology and comfortable sleep mode function, the GREE Air Conditioners operate at a whisper-quiet volume and maintain steady temperature cycles for maximum comfort. Combined with multi fan speeds and intelligent pre-heating, the GREE Air Conditioner achieves up to 16 SEER. You can enjoy super cool/heat with super quiet comfortable life every day, and you can turn it on/off as you needed since split AC will be controlled independently. In this way, it will save up to 60% for your electrical bill compared with other ACs. Our products are safety certified by ETL under UL regulation. What's more, we are certified by AHRI (The Air-conditioning, Heating, and Refrigeration Institute) for the energy efficiency which you can find on AHRI website for the exclusive AHRI reference number. We also have qualified product liability insured by world top manufacturer!

Other Features will include: Auto Swing Louvres, 24H Timer, Sleep Mode, Auto Restart when power restored, Turbo Mode, Dehumidifying Mode, Multi-function LCD Screen Remote, Heat Pump system for ultra-heat during winter season, Pre-charged R410A environmental-friendly refrigerant, Low Ambient Heating (-4°F) and Cooling (5°F), Self-Diagnosis and Auto Protection, Compressor Intelligent Pre -Heating, Auto Defrost, Auto Cleaning, i-Feel Mode, Louver Position Memory, Removable and Washable Filter, Corrosion Resistant Cabinet, °C and °F Convertible, Chassis Electric Heater Function, Ultra Quiet and High Efficient.
DOCUMENTS
GREE+ APP AND UNIVERSAL WIFI INSTALLATION AND OPERATION MANUAL
What should I look for when buying a room air conditioner?
CA Energy Comission 2019 Residential HVAC Overview