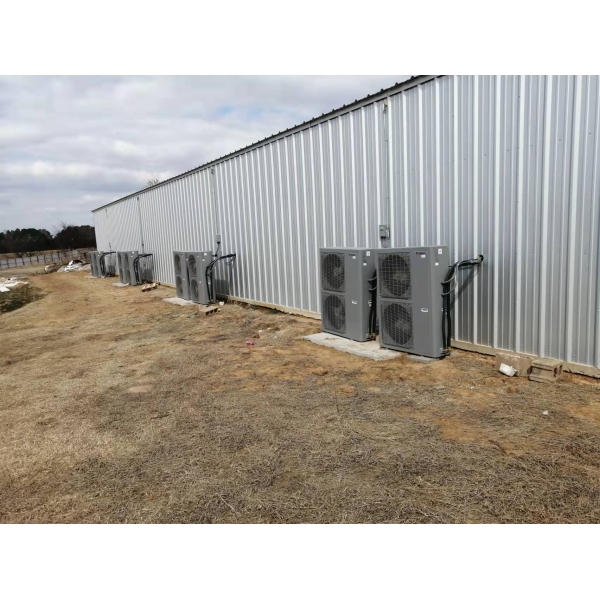 Gree 60000 BTU Central Ducted Hyper Heat Pump AC Inverter Pro Growers Hydroponics Farm Plant Factory
Model

: FLEXX60HP230V1BH / FLEXX60HP230V1AO
Brand:

Gree
INDOOR KEY FEATURES
Installation Flexibility
A built-in secondary drain allows the unit to be mounted for up flow or horizontally (left or right), enabling multi-position installation

(NO DOWNFLOW)

.
Efficient Comfort
As an alternate to gas furnaces, reduce the use of fossil fuels and experience cleaner energy and efficiency levels that meet many local and federal requirements.
CONTROLS: Factory installed interface for third-party thermostat compatibility* (*Wired thermostat not included)

Indoor copper connections and outdoor connections are standard hvac flared, no brazing needed.



FEATURES
Modes: Cool, Heat, Dry, Fan, Auto
Multi Poise Installation (Up Flow, Horizontal Right, Horizontal Left)

CFM: 1600

Less than 2% air leakage
Quiet indoor operation: 51dB
Anti-corrosive fin coating
Extreme heating operation in as low as -22° F
Built-in third-party thermostat compatibility (Single Stage)

Indoor requires its own 208-230v power source, it does not feed power from the outdoor unit like other models.


OUTDOOR KEY FEATURES
Extra Low Temperature Heating
For when its cold outside, the heat output for this system is up to 69% of rated capacity down to -22° F , making this a primary heat source and eliminating the need for a backup heat source.
Stepless Frequency Adjustment
Precise control of the system maintains stable and constant room temperature while reducing sound level and saving energy.

FEATURES
Built-in basepan and crankcase heater
Auto-restart function
Condenser high-temperature protection
Refrigerant leakage detection
Quiet outdoor operation, as low as 58 dB(A)
Aluminum Hydrophilic pre-coated fins
Max Piping length 100'
Cooling operating range
Heating operating range