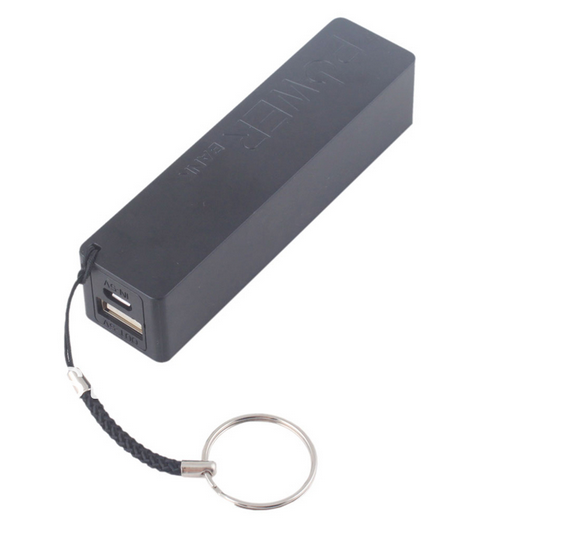 2600 mAh portable external battery mobile charger for devices. Can charge your portable device without the need for main power. To start charge, simply plug in the included connector tip cable with your device .

Features:
Fashionable design
Small and light for easy carrying, everywhere and anytime
Specifications:
High Capacity 2600 mAh
Time to Charge : 60-90 minutes
Charge % increase: 55-85% depending on device
*NOTE: May not always revive a completely discharged device, we recommend to begin use before battery has fully discharged
CE&FCC certificated
Output: 5V~1000mA
Input: 5V-1000 mA
Size: 22*24*96 mm (Length * Diameter)
Weight: 65 g
Package includes:
New 2600mAh External Battery charger portable power bank for USB port device
Short USB Power Cable
Compatible with:
General categories: iPhone, iPod, Most mobile phones, such as Nokia, Motorola, HTC, Samsung, LG, Blackberry, Sony Ericsson etc
General categories: players PSP1000/2000/3000. NDSL. NDSI. GPS, etc
Digital general categories: ipod. DV. DC. MP3, MP4, PDA. P100
Delivery
Delivery within the UK mainland is FREE.
Please refer to our delivery & refunds for more information. Please allow seven working days for this item to be delivered.

Returns
We offer a 14 day return policy. Faulty items will be replaced free of charge. Unwanted items may be refunded if the original contents remain within their original packaging and the refund claim has been initiated within the 14 day refund period. Customers must arrange their own delivery or contact us to arrange delivery (this will incur a surcharge and will be deducted from the refund amount issued once the items have been inspected). Refunds will be issued once the items have been fully inspected to confirm original condition.
All items are covered with a twelve month manufacturer guarantee. This guarantee does not cover damage sustained through wear and tear or misuse.