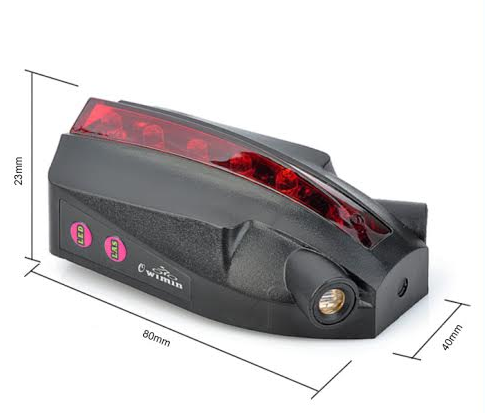 Super-bright LED lights, longer lasting, creates a brighter bike lane. This will allow the bikelane to tackling two serious causes of cycling fatalities which are, being caught in the blind spot, or vehicles turning across an unseen cyclist.
Features
Two Highly Visible Red Lasers (<5mW)
Equipped with 5 extremely bright Red LED's.
Lasers make an instant bike lane for an enjoyable and safe night ride.
It is clear and visible even under headlights and streetlights over a mile.
Weather and Shock Proof Polycarbonate cover

Size: 80*40*23 mm

Power: 2 pcs*AA

Body color: black
Delivery
Delivery within the UK mainland is £3.99 and will be delivered with Royal Mail or similar. Please refer to our delivery & refunds for more information. Please allow up to seven days for delivery.
Delivery is €4.99 to Ireland and EU mainland.

Returns
We offer a 14 day return policy. Faulty items will be replaced free of charge. Unwanted items may be refunded if the original contents remain within their original packaging and the refund claim has been initiated within the 14 day refund period. Refunds will be issued once the items have been inspected by our delivery team. Customers must arrange their own delivery or contact us to arrange delivery (this will incur a surcharge and will be deducted from the refund amount issued once the items have been inspected).