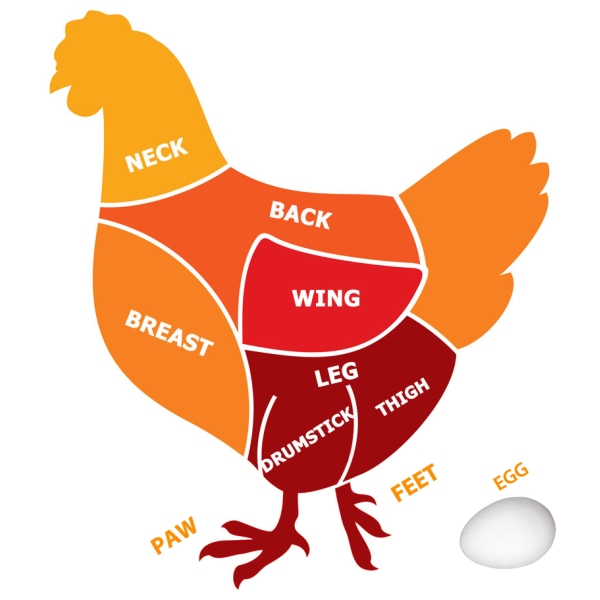 USA Premium Chicken Exports to China Top Tier Buyers
Chicken Anatomy

Whole Chicken
Whole chicken which consists of breast, thigh, wings, neck and back. It may contain one liver, one stomach and one heart. It is ideal for oven or even for soup and stews, if cut in parts.

Chicken Breast
The whole chicken breast with bones and skin. The bone has a characteristic boat keel shape. The meat is white and low in fat.
Breast FilletThe breast of the chicken without bone and skin. The lowest in fat piece of chicken. Its meat is white and coherent.
Chicken Leg
Each chicken has two legs which in turn are divided into the Thigh and Drumstick via a clavicle. The leg includes bone and skin. Its flesh is characteristic pink and is more juicy and fatty than the chest.

Chicken Thigh Fillet
The leg fillet is the thigh without bone and skin. It is the most juicy piece of chicken and recommended for every use.
Chicken Drumstick
The drumstick has the look of a drum baguette. It's the children's favorite part, while it is better enjoyed eating by hand. Recommended for frying, oven baking and cooked meals.
Chicken Wings
The most disputable chicken part. While for some is not their favorite part, others just can't have enough. It clearly has the most dedicated fans that will not miss a chance to taste it breaded, barbequed or cooked in any way.
Chicken Neck and Back
It is a fine delicacy. Because of its content in fat is ideal for gravies, soups and stews as it offers extra flavor.
Chicken Feet
The Chicken feet and the leg shank (lower part of the leg).

Chicken Paw
The Chicken feet only, cut and separated from the leg at the ankle.
Chicken paws primarily consist of skin, bone, and connective tissues such as cartilage and tendons. They're actually very nutritious, containing healthy vitamins and minerals, and, they're a rich source of gelatinous collagen.
Due to these nutrient densities in chicken paws / feet, in some countries they are traditionally considered beneficial for infants' diets, to promote development of healthy bones, joints, nails, and skin.
The USDA INSPECTION OF POULTRY FEET DIRECTIVE does distinguish between chicken paws and chicken feet. The federal government has detailed the difference laid out in USDA Gain Report on the chicken paw economy.
CHICKEN CUTS
whole chicken - 整鸡
Mechanically Boneless Chicken - 机械去骨鸡肉

chicken thigh - 鸡下腿
chicken drumstick - 鸡腿
chicken breast - 鸡胸柳
chicken thigh - 鸡边腿
chicken egg - 鸡蛋
chicken wings - 鸡排翅

chicken wing tip - 翅尖
chicken liver - 鸡肝
chicken gizzard - 鸡胗
Whole Chicken (with feet, head and giblets) - 整鸡(带脚带头带内脏)
Whole chicken (feet, head and guts removed) - 整鸡(去脚去头去内脏)
chicken thigh - 鸡上部腿
chicken shank - 鸡小腿
chicken thigh - 鸡边腿
chicken whole leg - 鸡全腿
Chicken three-joint wings - 鸡三节翅
chicken wings - 鸡二节翅
chicken wing tips - 鸡翅尖
chicken wings - 鸡翅根
chicken breast - 鸡胸肉
chicken mid joint - 鸡中节
chicken middle joint - 中节
chicken feet - 凤爪
chicken feet - 鸡脚
chicken paw - 鸡爪
Global Chicken Paw Trade
China is the world's largest importer of chicken feet. This poultry product is imported from the U.S. and other sources throughout the world for vast consumption in China.
According to the extensive FDA GAIN report on U.S. chicken paw production and export, the US country's volume of chicken paw export volume to China and Hong Kong alone was almost 48 percent of the national total of edible frozen chicken parts.
Chicken paw exports to China in 2020 were 201,958 metric tons valued at $461.0 million. If all of those paws had been sold domestically for rendering instead of being exported, the value would have been only $22.3 million (at a price of 5 cents per pound, or $110 per metric ton).
For US chicken producers, the Chinese demand for paws has brought a true financial windfall. Without it, US companies would have no alternative but to sell paws to renderers for just pennies on a pound. Instead, in China, they command an average price of nearly $1.10 per pound and that difference goes straight to the bottom line.
The popularity of paws has yielded another benefit for US producers, as it has spurred demand for other parts of the chicken, primarily leg meat.
USA Chicken Exports to China Agency List
FSIS Food Safety Inspection Service - U.S. facilities approved by FSIS for export to China must be listed on the GACC website before slaughtering and processing beef, pork, or poultry products for export to China. U.S. facilities can only export to China beef, pork, or poultry that are slaughtered and further processed after the facility has been added to the GACC website. Any establishment (i.e., slaughter, processing, cold storage) not currently listed on GACC's eligible establishment list that is interested in exporting eligible beef, pork and poultry products to China must submit FSIS Form 9080-3 through PHIS. FSIS will provide GACC an updated establishment list monthly.
GACC - General Administration of Customs China - The General Administration of Customs of the People's Republic of China (GACC), the headquarters of China Customs, is a key border agency of the nation. Following the government restructuring in 2018, China Customs now boasts 100,000 staff throughout the country with responsibilities of traditional customs, as well as border health checks, inspection and quarantine for imported and exported animals, plants, and their products, imported and exported food safety, and commodity inspection. GACC oversees 42 customs districts which operate through a total of 678 customs houses nationwide. GACC has its Guangdong office located in Guangzhou for regional coordination.
FSIS will certify these establishments to GACC. U.S. facilities approved by FSIS for export to China must be listed on the GACC website before slaughtering and processing poultry and poultry products for export to China. U.S. facilities can only export to China poultry that are slaughtered and further processed after the facility has been added to the GACC website. Upon FSIS receipt of notification from GACC that facilities have been published on the GACC website, these establishments will be added to the current FSIS Eligible Plant List for Exporting to China. In order to be added to the eligible plant list for exporting to China, an establishment must submit an FSIS Form 9080-3 and wait until the approved plant list is updated before shipping.
Brazil Chicken Paw Offer
PRODUCT: CHICKEN PAWS (A) / CHICKEN MID-JOINT WINGS (MJW)
100% FRESH AND FROZEN

WHITE SKIN
OUTER YELLOW SKIN OF WELL DRESSED AND CLEANED

NO BLACK PADS OF AMMONIA BURNS
NO EXCESSIVE BLOOD OR BLOOD STAINS

NO BAD SMELLS
NO EXCESS WATER
NO BROKEN BONES
MOISTURE LESS THAN 1%
FROZEN AT MINUS -40c
TRANSPORTATION STORAGE LESS -18 DEGREES CELSIUS
DURING TRANSPORTATION: MINUS 18-20 DEGREES CELSIUS
SHELF LIFE: 24 MONTHS
PACKING: DURING MARITIME TRANSPORT (2*10 KG BAGS) = 20KG PER BOX (1350
CARTONS*40FT FREEZER CONTAINERS).
- Each 40HQ can hold 27 tons
LABELS AND IDENTIFICATION
PACKAGING AND LABELLING

10 KG LDPE poly bags in 20 kg carton boxes marked appropriately in English and Chinese labeling with:

1. Product name and description
2. Grade of goods
3. Packing company name
4. Plant registration number
5. Country of origin
6. Destination
7. Nutritional information
8. Brand name
9. Net weight
10. Storage temperature -18ºC (minus eighteen degrees Celsius)
11. Gross weight
12. Carton tare
13. Production date
14. Packaging date
15. Pieces
16. Traceability code
17. Tare packing
18. Batch
19. Processor number
20. Shelf life, best before date and expiry date
21. CNCA markings
22. Factory/manufacturer information (SIF)


Commodity: Frozen Chicken Paws – Grade A
Origin: BRAZIL
Destination: CIF Main Port
Price Term: USD per MT depending on order quantity
Available: 100+ containers per month
Procedure
A. BUYER issues Letter of Intent (LOI) or Irrevocable Corporate Purchase Order (ICPO).
B. SELLER issues Full Corporate Offer (FCO).
C. BUYER signs and seals EACH page of FCO and returns to SELLER.
D. SELLER issues draft Sales Purchase Agreement (SPA) which will incorporate full terms and conditions.
E. BUYER signs and seals EACH page of SPA and returns to SELLER.
F. The SELLER completes the SPA, signs and stamps it and issues a Proforma Invoice. BUYER issues a draft
DLC/MT700, which SELLER's Bank reviews and approves.
G. Within 5 International banking days the BUYER's Bank issues Irrevocable, TRANSFERABLE DLC/MT700, to
SELLER's Bank (from top 50 Prime Banks)
H. A two percent (2%) performance bond (PB) will be provided after confirmation of the operative
instrument to seller's bank. NO PB FOR TRIAL ORDERS.
I. Shipments will start within 30 banking days of confirmation of the DLC/MT700 by seller's bank.
J. All the original documents will be sent to the BUYER bank via the SELLER bank through DHL.
K. BUYER'S bank makes 100% payment to SELLER's bank immediately after material is loaded and full sets
documents are provided. Seller will entrust SGS to issue quality and quantity (Q&Q) inspection report at the port of discharge.


Frozen Chicken Paws and Feet Supply Specification and Requirement
Frozen Chicken Paws / Frozen Chicken Feet /Frozen Chicken Mid Joint Wings
- Grade A

- HACCP Certification

- Frozen Process: IQF

- Blasted At: -40 degree C(minimum 6 Hours)

- Storage and Transportation: -18 degree C

- Shelf Life: 24 Months from shipping date

- Slaughter Age: 24-36 months at time of slaughter

- Ice Content: Less than 0.3%

- Well cleaned and fresh 100%

- No excessive blood or blood stains

- No back pad

- No bruise

- No back pads or chemical ammonia burns

- Moisture content lass than 2%

- Official Technical File (with photo of the goods packed and unpacked).

- Inner Packing: LDPE Poly Bag

- Outer Packing: Carton

- Each 40HQ can hold 27 tons
BRAZIL SIF LIST
No.
Approval No.
Name of Plant
Address of Plant
Activities
1
SIF1
BRF S.A
RUA SENADOR ATILIO FRANCISCO XAVIER FONTANA,86 - COMPLEMENTO - ALA 01 para Concordia - SC CEP 89700907
Slaughter, Cutting, Coldstore
2
SIF18
BRF-Brazil Foods S.A.
Av. 04 S/No. Quadra 13 Parque Industrial— Dourado/MS
Slaughter, Cutting, Coldstore
3
SIF42
JBS S/A
Av. Marechal Rondon, Nº 2550 - Lado Par - Jardim Paraiso. Barra do Garças/MT. CEP: 78.601-522
Slaughter, Cutting, Coldstore
4
SIF68
COOPERATIVA CENTRALAURORA ALIMENTOS
RUA XV DE NOVEMBRO, 100 -CENTRO - VIDEIRA - SC
Slaughter, Cutting, Coldstore
5
SIF87
BRF S.A
RUA XV DE NOVEMBRO, 100 -CENTRO - VIDEIRA - SC
Slaughter, Cutting, Coldstore
6
SIF103
BRF S.A
AV. ARTHUR OSCAR, 1706 -CENTRO - SERAFINA CORRÊA - RS
Slaughter, Cutting, Coldstore
7
SIF121
BRF S.A
RUA XV DE NOVEMBRO, 100 -CENTRO - VIDEIRA - SC
Slaughter, Cutting, Coldstore





8
SIF160
BRF S.A
ROD BR 282, KM 348, BLOCO 01 -DISTRITO INDUSTRIAL - CAMPOSNOVOS - SC
Slaughter, Cutting, Coldstore
9
SIF177
PRIMA FOODS S.A
AV. THEODORETO VELOSO DECARVALHO, 2053 PAINEIRAS,ARAGUARI – MG CEP. 38.445-198
Slaughter, Cutting, Coldstore
10
SIF232
MARFRIG GLOBAL FOODS S.A.
RUA ANSELMO GARRASTAZU, 137 -SANTA TEREZA - BAGÉ - RIOGRANDE DO SUL
Slaughter, Cutting, Coldstore
11
SIF337
JBS S/A
PRQ Industrial, S/N, Distrito Industrial –Lins – São Paulo CEP: 16.404-110
Slaughter, Cutting, Coldstore
12
SIF377
PAMPLONA ALIMENTOS S/A
Rua Curt Hering, 1796, Centro, PresidenteGetúlio/SC
Slaughter, Cutting, Coldstore
13
SIF385
JBS S/A
AV. JOSÉ BATISTA SOBRINHO S/Nº -SÃO FRANCISCO - ANDRADINA -SP
Slaughter, Cutting, Coldstore
14
SIF421
MINERVA S.A
PROL AV ANTONIO M. BERNARDESS/N - CHACARA MINERVA -BARRETOS - SP
Slaughter, Cutting, Coldstore
15
SIF490
SEARA ALIMENTOS LTDA
AV. PALUDO 155 - INDUSTRIAL -SEARA - SC
Slaughter, Cutting, Coldstore
16
SIF504
JBS S/A
Rua Principal, S/N - Vila Miisa CEP38.300-899 Ituiutaba - MG - Brasil
Slaughter, Cutting, Coldstore
17
SIF516
Copacol–CooperativaAgroindustrial Consolata
Rua Desembargador Munhoz de Mello,176– Centro
Slaughter, Cutting, Coldstore
18
SIF530
SEARA ALIMENTOS LTDA
Rod. BR 476 - Km 66,5 Lapa / Paraná /Brasil
Slaughter, Cutting, Coldstore
19
SIF576
SEARA ALIMENTOS LTDA
RUA SÃO BONIFÁCIO, 1301 - SANTATERESA - ITAPIRANGA - SC
Slaughter, Cutting, Coldstore
20
SIF601
COOPERATIVA CENTRALAURORA ALIMENTOS
RUA ANDRÉ LUNARDI, 948 -CENTRO - XAXIM - SC
Slaughter, Cutting, Coldstore
21
SIF716
BRF S.A
Av. Senador Attílio Fontana, n. 4040,Toledo/PR
Slaughter, Cutting, Coldstore
22
SIF725
VIBRA AGROINDUSTRIALS/A
RUA ZOELIO ZOLA, nº 1500, BAIRROMONTREAL, SETE LAGOAS/MG CEP35701-352
Slaughter, Cutting, Coldstore
23
SIF784
COOPERATIVA CENTRALAURORA ALIMENTOS
RUA PREFEITO NORMELIO ZILIO,S/Nº - DISTRITO INDUSTRIAL - JOAÇABA - SC
Slaughter, Cutting, Coldstore
ARGENTINA SIF LIST
| | | | | |
| --- | --- | --- | --- | --- |
| No. | Approval No. | Name of Plant | Address of Plant | Activities |
| 1 | 13 | SWIFT ARGENTINA S A | AV. JUAN DOMINGO PERON S/N - VILLA GOBERNADOR GALVEZ - SANTA FE | Slaughterhouse, Cuttingplant, Cold store |
| 2 | 89 | MATTIEVICH S.A. | Ruta Nac. 9 - Km. 354 - CARCARAÑA - SANTA FE | Slaughterhouse, Cuttingplant, Cold store |
| 3 | 131 | LA PIAMONTESA DE AVERALDO GIACOSA Y CIA. S.A. | GÜEMES 775 Y MARMOL - BRINKMANN - CORDOBA | Slaughterhouse, Cuttingplant, Cold store |
| 4 | 189 | S. A. IMPORTADORA Y EXPORTADORA DE LA PATAGONIA | Ruta 191, Km. 94,500 CP2741 - SALTO - BUENOS AIRES | Slaughterhouse, Cuttingplant, Cold store |
| 5 | 249 | FRIAR S.A. | Lisandro de la Torre Nº 810 - NELSON - SANTA FE | Slaughterhouse, Cuttingplant, Cold store |
| 6 | 350 | WADE S.A. | Estancia Los Remedios Nº 2701 - EL JAGUEL - BUENOS AIRES | Slaughterhouse, Cuttingplant, Cold store |
| 7 | 391 | AGRO PATAGONICO SA | BERUTI 368 - AVELLANEDA - BUENOS AIRES | Cutting plant, Cold store |
| 8 | 1014 | QUICKFOOD S A | Av. Ortiz 2653 - SAN JORGE - SANTA FE | Slaughterhouse, Cuttingplant, Cold store |
| 9 | 1113 | MARFRIG ARGENTINA SOCIEDAD ANONIMA | Pringles y Europa - VILLA MERCEDES - SAN LUIS | Slaughterhouse, Cuttingplant, Cold store |
| 10 | 1130 | FRIGORÍFICO PALADINI SA | J. J. Piazza 63 - VILLA GOBERNADOR GALVEZ - SANTA FE | Slaughterhouse, Cuttingplant, Cold store |
| 11 | 1237 | FRIGORIFICO H V S A | PASO 3030 - LOMAS DEL MIRADOR - BUENOS AIRES | |
| 12 | 1301 | ARRE BEEF S.A. | LAS HERAS Y SARMIENTO - BELEN DE ESCOBAR - BUENOS AIRES | Cutting plant, Cold store |
| 13 | 1304 | WADE S.A. | Las Acacias Nº 1076 entre Los Troncos y El Volcan - LA UNION (UNION FERROVIARIA) - BUENOS AIRES | Slaughterhouse, Cuttingplant, Cold store |
| 14 | 1310 | AVICOLA CAPITAN SARMIENTO S.A. | Ruta Nacional Nº 8-Km. 143,5 - CAPITAN SARMIENTO - BUENOS AIRES | Slaughterhouse, Cuttingplant, Cold store |
| 15 | 1315 | INDAVISA (INDUSTRIAS AVICOLAS S.A.) | Ruta Nacional N 7 - Acceso a Hernandarias - HERNANDARIAS - ENTRE RIOS | Slaughterhouse, Cuttingplant, Cold store |
| 16 | 1325 | Frigorifico Entrerriano de Productores Avicolas S.A. (F.E.P.A.S.A.) | Ruta 14 (Viejo trazado) KM. 319 - CONCEPCION DEL URUGUAY - ENTRE RIOS | Slaughterhouse, Cuttingplant, Cold store |
| 17 | 1326 | ESTABLECIMIENTO FRIGORIFICO AZUL S.A. (E.F.A.S.A) | Leyra 1025 - AZUL - BUENOS AIRES | Cold store |
| 18 | 1352 | SANTA GIULIA S A | RUTA 210 - KM. 46,500 - ALEJANDRO KORN - BUENOS AIRES | Slaughterhouse, Cuttingplant, Cold store |
| 19 | 1399 | Rafaela Alimentos S.A. | Ruta 33-Km.744 - CASILDA - SANTA FE | Slaughterhouse, Cuttingplant, Cold store |
| 20 | 1543 | FRIGORIFICO AVICOLA BASAVILBASO S AC I AG | Calle 25 de Mayo S/N - Barrio Estrada - BASAVILBASO - ENTRE RIOS | Slaughterhouse, Cuttingplant, Cold store |
URUGUAY SIF LIST
| | | | | |
| --- | --- | --- | --- | --- |
| No. | Approval No. | Name of Plant | Address of Plant | Activities |
| 1 | 2 | Establecimientos colonia S.A. | Ruta 22, Tarariras, Colonia | Slaughterhouse, CuttingplantCold store |
| 2 | 3 | Frigorífico Carrasco S.A. | Camino Carrasco N°5,Canelones | Slaughterhouse, CuttingplantCold store |
| 3 | 7 | Frigorífico Pul (Pulsa S.A.) | Ruta 8, km 389,Cerro Largo | Slaughterhouse, CuttingplantCold store |
| 4 | 8 | Frigorífico Canelones S.A. | Pando s/n y Ameglio, Canelones | Slaughterhouse, CuttingplantCold store |
| 5 | 12 | Frigorífico Tacuarembó S.A. | Ruta 5 y 26, Tacuarembó | Slaughterhouse, CuttingplantCold store |
| 6 | 14 | Frigorífico Durazno (FricocerroS.A.) | Santa Bernardina, Durazno | Slaughterhouse, CuttingplantCold store |
| 7 | 22 | Matadero Rosario (RondatelS.A.) | Barrio Pastoreo, Rosario, Colonia | Slaughterhouse, CuttingplantCold store |
| 8 | 55 | Inaler S.A. | Paraje Bañado, San José | Slaughterhouse, CuttingplantCold store |
| 9 | 58 | Frigorífico Casa Blanca (FricasaS.A.) | Pueblo Casablanca, Paysandú | Slaughterhouse, CuttingplantCold store |
| 10 | 224 | Lorsinal S.A. | Camina Melila 10270, Montevideo | Slaughterhouse, CuttingplantCold store |
| 11 | 344 | Frigorifico San Jacinto (NireaS.A.) | Ruta 7 km.59,500 Canelones | Slaughterhouse, CuttingplantCold store |
| 12 | 379 | Frigorifico Las Piedras S.A. | Ruta 36, km 26,100 Canelones | Slaughterhouse, CuttingplantCold store |
| 13 | 394 | Frigorifico La CaballadaCledinor S.A. | Tomás Berreta y Harriague, Salto | Slaughterhouse, CuttingplantCold store |
| 14 | 439 | Frigorifico Matadero Pando(Ontilcor S.A.) | Ruta 75, km 34,Canelones | Slaughterhouse, CuttingplantCold store |
| 15 | 26 | Frigoyi (Bilacor S.A.). | Ex ruta 4, Santa BernardinaDURAZNO | Slaughterhouse, CuttingplantCold store |
| 16 | 52 | Suc. Carlos Schneck S.A. | Camino Colman 4598, Montevideo | Slaughterhouse, CuttingplantCold store |
| 17 | 85 | Frigorífico Sarubbi (SirsilS.A.) | Coronel Raíz 2764, Montevideo | Slaughterhouse, CuttingplantCold store |
| 18 | 104 | Frigorífico Las Moras (ChiadelS.A.) | Camino Aldabalde s/n, Canelones | Slaughterhouse, CuttingplantCold store |
| 19 | 150 | Solís Meat Uruguay (ErsinalS.A.) | Ruta 8, km 87, Solís de Mataojo,Lavalleja | Slaughterhouse, CuttingplantCold store |
| 20 | 310 | Breeders & Packers UruguayS.A. | Ruta 14, Km 170, Durazno | Slaughterhouse, CuttingplantCold store |
| 21 | 74 | FRIGO SALTO SOMICAR S.A. | Empalme Ruta 3 y 31, Salto | Slaughterhouse, CuttingplantCold store |
| 22 | 245 | FRIGORÍFICO COPAYAN S.A. | Ruta 9 Km. 210, Rocha | Slaughterhouse, CuttingplantCold store |
| 23 | 365 | FRIGORIFICO FLORIDA - CLADEMAR SA | Wilson Ferreira Aldunate s/n and Route 5 –Florida - URUGUAY | Slaughterhouse, CuttingplantCold store |
| 24 | 158 | Dinolar S.A. | Ruta 8, km 28,300, Pando, Canelones | Cutting plantCold store |
| 25 | 177 | Lirtix S.A. | Islas Canarias 6175 Montevideo | Cutting plantCold store |
| 26 | 20 | Frigorífico Modelo S.A. | Con. Bajo de la Petiza 5524, Montevideo, Uruguay | cold store |
| 27 | 23 | Frimaral S.A. | Luis Batlle Berres 5175, Montevideo | cold store |
| 28 | 87 | Frigorífico Arbiza S.A. | Colombia 1257, Montevideo | cold store |
CHILE SIF LIST
| | | | |
| --- | --- | --- | --- |
| NO. | Approval No. | Name of Plant | Address of Plant |
| 1 | 01-11 | Agroindustrial Arica S.A. | Av. Santa María N° 2348, Arica, Región de Arica y Parinacota, Chile |
| 2 | 05-09 | Sopraval S.A. | Panamericana Norte Km 112, La Calera, Región de Valparaíso, Chile |
| 3 | 06-02 | Faenadora Lo Miranda Ltda. | Carretera H-30, N° 3814, Lo Miranda, Doñihue, Región del Libertador Gral. Bernardo O'Higgins, Chile |
| 4 | 06-06 | Procesadora de Alimentos del Sur Limitada | Ruta H-50 Km 0,304 camino Quinta de Tilcoco, Rengo, Región del Libertador Gral. Bernardo O'Higgins, Chile |
| 5 | 06-08 | Faenadora San Vicente Ltda. | Carretera H-66-G Km 19,2, San Vicente T.T., Región del Libertador Gral. Bernardo O'Higgins, Chile |
| 6 | 06-17 | Faenadora Las Pataguas, Comercial Maxagro S.A. | Ruta H-886 Km 2, Pichidegua, Región del Libertador Gral. Bernardo O'Higgins, Chile |
| 7 | 07-03 | Coexca S.A. | Longitudinal Sur Km.259, Talca, Región del Maule, Chile |
| 8 | 13-07 | Agroindustrial El Paico S.A. | Av. Los Libertadores N° 1714, El Monte, Región Metropolitana, Chile |
| 9 | 13-07 | Frigorífico Temuco S.A. | Av. Altamira N° 01825, Temuco, Región de la Araucanía, Chile |
| 10 | 09-31 | Frigorífico Karmac SPA. | Camino Pillanlelbún Lote LA 5 N° 1B3, Lautaro, Región de la Araucanía, Chile |
| 11 | 09-31 | Frima S.A. | Camino Antiguo Puyehue Km 1, Osorno, Región de Los Lagos, Chile |
| 12 | 12-01 | Frigorífico Simunovic S.A. | Km 13,7 norte, Punta Arenas, Región de Magallanes y de la Antártica Chilena, Chile |
| 13 | 10-26 | Frigorífico de Osorno S.A. | Francisco del Campo N° 200, Osorno, Región de Los Lagos, Chile |
| 14 | 10-15 | Matadero Frigorífico del Sur S.A. | Ruta U-55, Camino Pichidamas Km 1,7,Osorno, Región de Los Lagos, Chile |
| 15 | 12-05 | Soc. Com. José Marín Antonín y Cía. Ltda. | Los Calafates N° 0415, Sitio 7-11 Barrio Industrial, Punta Arenas, Región de Magallanes y de la Antártica Chilena, Chile |
| 16 | 12-08 | Comercial Mac Lean y Cía. Ltda. | Los Arrieros 1517, Puerto Natales, Regiónde Magallanes y de la Antártica Chilena, Chile |
| 17 | 12-10 | Frigorífico Patagonia S.A. | John Williams N° 1, Porvenir, Región de Magallanes y de la Antártica Chilena, Chile |
| 18 | 06-01 | COMAFRI S.A. | Av. Libertador Bernardo O'Higgins N°1370, Rancagua, Región del Libertador Gral. Bernardo O'Higgins, Chile |
| 19 | 13-33 | Friofort S.A. | Alberto Krumm Valencia N° 0613, Buin, Región Metropolitana, Chile |
| 20 | 13-19 | Frigorífico Andino S.A. | Av. Américo Vespucio N° 0350, Quilicura, Región Metropolitana, Chile |
| 21 | 13-18 | Goldenfrost S.A. | Avenida Américo Vespucio N° 1955, Renca, Región Metropolitana, Chile |
| 22 | 06-03 | Procesadora de Alimentos del Sur Limitada. | Camino Fundo Peuco N° 3400, San Francisco de Mostazal, Región del Libertador Gral. Bernardo O'Higgins, Chile |
| 23 | 06-23 | Precisa Frozen Storage & Services Ltda. | Longitudinal Sur Km. 95,5 sector El Vaticano, Requinoa, Región del Libertador Gral. Bernardo O'Higgins, Chile |
USA SIF LIST
| | | | | | | | |
| --- | --- | --- | --- | --- | --- | --- | --- |
| No. | Approval No. | Name of Plant | Street | City | State | Zip | Activities |
| 1 | 3 | Smithfield Packaged Meats Corp. | 410 Kirk Rd. | St Charles | IL | 60174 | Cuttingplant, Processing |
| 2 | 19 | Smithfield Packaged Meats Corp. | 5015 S. 33rd Street | Omaha | NE | 68107 | Cuttingplant, Processing |
| 3 | 28 | Smithfield Packaged Meats Corp. | One Sweet Apple-Wood Lane | Cudahy | WI | 53110 | Cuttingplant, Processing |
| 4 | 35 | Rantoul Foods LLC | 205 Turner Drive | Rantoul | IL | 61866 | Slaughterhouse, Cuttingplant, Processing |
| 5 | 89 | Hillshire Brands Company | 4612 Speaker Road | Kansas City | KS | 66106 | Cuttingplant, Processing |
| 6 | 92 | Fresh Mark Canton | 1600 Harmont Ave. P.O. Box 8440 | Canton | OH | 44711 | Cuttingplant, Processing |
| 7 | 222 | Smithfield Packaged Meats Corp. | 1401 S. Eisenhower Avenue | Mason City | IA | 50401 | Cuttingplant, Processing |
| 8 | 226 | Independent Meat Company | 2072 Orchard Drive East | Twin Falls | ID | 83301 | Slaughterhouse, Cuttingplant, Processing |
| 9 | 244 | Tyson Fresh Meats, inc. | 1009 Richland Street | Storm Lake | IA | 50588 | Slaughterhouse, Cuttingplant, Processing |
| 10 | 279 | LSI, Inc. | 720 Main Street | Alpena | SD | 57312 | Cuttingplant, Processing |
| 11 | 296 | Smithfield Packaged Meats Corp. | 801 E. Kemper Road | Cincinnati | OH | 45246 | Cuttingplant, Processing |
| 12 | 360 | Smithfield Packaged Meats Corp. | 3049 E. Vernon Avenue | Vernon | CA | 90058 | Slaughterhouse, Cuttingplant, Processing |
| 13 | 413 | Smithfield Fresh Meats Corp. | 424 East Railroad Street | Clinton | NC | 28328 | Slaughterhouse, Cuttingplant, Processing |
| 14 | 511 | Cargill Value Added Meats | 480 Co-op Drive | Timberville | VA | 22853 | Cuttingplant, Processing |
| 15 | 582 | The Hillshire Brands Company | 3900 Meacham Boulevard | Haltom City | TX | 76117 | Cuttingplant, Processing |
| 16 | 623 | Tyson Prepared Foods, Inc. | 9 North Washington | South Hutchinson | KS | 67505 | Cuttingplant, Processing |
| 17 | 635 | Cargill Meat Solutions | 2510 East Lake Shore Drive | Waco | TX | 76705 | Cuttingplant, Processing |
| 18 | 669 | The Daniel Weaver Co., Inc. | 1415 Weavertown Road | Lebanon | PA | 17046 | Cuttingplant, Processing |
| 19 | 687 | Albert Lea Select Foods Inc. | 2410 Y.H. Hanson Ave. | Albert Lea | MN | 56007 | Cuttingplant, Processing |
| 20 | 717 | Smithfield Fresh Meats Corp. | 800 Industrial Drive | Denison | IA | 51442 | Slaughterhouse, Cuttingplant, Processing |
| 21 | 724 | Coast Packing Company | 3275 East Vernon Avenue | Vernon | CA | 90058 | Cuttingplant, Processing |
| 22 | 760 | Kansas City Sausage Company, LLC | 1831 Maury Street | Des Moines | IA | 50317 | Cuttingplant, Processing |
| 23 | 791 | Clemens Food Group, LLC | 2700 Clemens Road | Hatfield | PA | 19440 | Slaughterhouse, Cuttingplant, Processing |
| 24 | 812 | Sioux Preme Packing Co. | 2800 Murray Street | Sioux City | IA | 51111 | Cuttingplant, Processing |
| 25 | 965 | Interstate Meat Dist., Inc. | 9550 SE Last Road | Clackamas | OR | 97015 | Cuttingplant, Processing |
| 26 | 995 | Swift Pork Company | 1200 Story Avenue | Louisville | KY | 40206 | Slaughterhouse, Cuttingplant, Processing |
| 27 | 1077 | Lincoln Provision, Inc | 824 W. 38th Place | Chicago | IL | 60609 | Cuttingplant, Processing |
| 28 | 1152 | Smithfield Packaged Meats Corp. | 1660 Old Bay Shore | San Jose | CA | 95112 | Cuttingplant, Processing |
| 29 | 1161 | Burger's Ozark Country Cured | 32819 Highway 87 | California | MO | 65018 | Cuttingplant, Processing |
CANADA SIF LIST
| | | | | |
| --- | --- | --- | --- | --- |
| No. | Approval No. | Name of Plant | Address of Plant | Activities |
| 1 | 001A | Maple Leaf Foods Inc. | 4141-1st Ave.S.,Lethbirdge,AB,CanadaT1J 4P8 | Slaughterhouse, Cuttingplant, Cold store |
| 2 | 4 | Sofina Foods Inc. | 821 Appleby line, Burlington,ON,CanadaL7L 4W9 | Slaughterhouse, Cuttingplant, Cold store |
| 3 | 7 | Maple Leaf Foods Inc. | 6355 Richmond Avenue East,Brandon,MB,Canada R7A 7M5 | Slaughterhouse, Cuttingplant, Cold store |
| 4 | 9 | L.G.Hébert et Fils Ltée | 428 Rue Hébert, Ste-Hélene De Bagot,QC, Canada J0H 1M0 | Slaughterhouse, Cuttingplant, Cold store |
| 5 | 10 | Agromex Inc | 168 Rue Lague Ange-Gardien, QCCanada J0E 1E0 | Slaughterhouse, Cuttingplant, Cold store |
| 6 | 11 | St.Helen's Meat Packers | 1 Glen Scarlett Road, Toronto ,On, CanadaM6N 1P5 | Slaughterhouse, Cuttingplant, Cold store |
| 7 | 12 | Les Viandes du Breton Inc. | 150 Chemin des Raymond RIVIERE-DU-LOUP, QC, G5R 5X8 | Slaughterhouse, Cuttingplant, Cold store |
| 8 | 38 | JBS FOOD CANADAULC/ALIMENT JBS CANADAULC. | Highway 1 west, Brooks, AB,Canada T1R1C6 | Slaughterhouse, Cuttingplant, Cold store |
| 9 | 51 | CARGILL MEAT SOLUTIONS | 165 DUNLOP DRIVE, GUELPH,ON,Canada N1L 1P4 | Slaughterhouse, Cuttingplant, Cold store |
| 10 | 68 | DELI-PORC INC. | 1805 Industrial Boulevard Laval,Quebec,Canada H7S 1P5 | Slaughterhouse, Cuttingplant, Cold store |
| 11 | 80 | Atrahan Transformation Inc. | 860 Chemin des Acadiens,Yamachiche,QC, G0X 3L0 | Slaughterhouse, Cuttingplant, Cold store |
| 12 | 86 | ARTIC BLAST MTL INC. | 565,Rue Fernand-pointras,Terrebonne,QC, J6Y 1Y5 | Slaughterhouse, Cuttingplant, Cold store |
| 13 | 93 | CARGILL MEAT SOLUTIONS | 472 AVENUE & HIGHWAY 2A NORTH, HIGHRIVER, AB,Canada T1V 1P4 | Slaughterhouse, Cuttingplant, Cold store |
| 14 | 94 | Frigo Royal(1998) Inc. | 70 Glen Scarlett Rd, Toronto, ON M6N1P4 | Slaughterhouse, Cuttingplant, Cold store |
| 15 | 99 | RYDING-REGENCY MEATPACKERS | 623 MAIN STREET EAST, NEEPAWA,MB, R0J 1H0 | Slaughterhouse, Cuttingplant, Cold store |
| 16 | 126 | HYLIFE FOODS LP | 125 RUE ST-Isidore ,ST-Esprit ,QC,Canada, J0K 2L0 | Slaughterhouse, Cuttingplant, Cold store |
| 17 | 129 | Olymel S. E. C./L.P. | 568,Chemin de L'ecore Sud,Vallee-Jonction, QC, G0S 3J0 | Slaughterhouse, Cuttingplant, Cold store |
| 18 | 147 | OLYMEL S.E.C./ L.P. | 155,Rue St-Jean Baptiste Nord,Princeville,QC, G6L 5C9 | Slaughterhouse, Cuttingplant, Cold store |
| 19 | 147C | OLYMEL S.E.C./ L.P. | 460 East Hastings Streets, Vancouver,BC, Canada, V6A 1P7 | Slaughterhouse, Cuttingplant, Cold store |
| 20 | 170 | Wing Wing Company Limited | 2080 Monterey,Laval, QC(Canada), H7L3S3 | Cutting plant, Cold store |
| 21 | 191 | Les Viandes Or-fil InternationalINC. /Or-fil Meats InternationalINC. | 1425 Rue St.Jacques,St-Hyacinthe, QC,J2S 6M7 | Slaughterhouse, Cuttingplant, Cold store |
| 22 | 199 | Olymel S.E.C/L.P. | 505 Boul. Industriel, St-Jean-Sur-Richelieu,Qc J3b 7z3 | Cutting plant, Cold store |
| 23 | 225 | Agromex Inc. | 2825 Rue Power, Drummondville, QC,J2C 6Z6 | Slaughterhouse, Cuttingplant, Cold store |
| 24 | 254 | Drummond Export | 7550-40th Avenue, Red Deer, AB,Canada T4P 2H8 | Slaughterhouse, Cuttingplant, Cold store |
| 25 | 270A | OLYMEL S.E.C./L.P. | 313 Menno st., Breslau, Ontario, CanadaN0B 1M0 | Slaughterhouse, Cuttingplant, Cold store |
| 26 | 391 | Conestoga Meat Packers Ltd. | 313 Menno st., Breslau, Ontario, CanadaN0B 1M0 | Slaughterhouse, Cuttingplant, Cold store |
| 27 | 394 | Thunder Creek Pork Inc. | 720 Lillooet Street West, Moose, Jaw,SK,S6H 8B4 | Slaughterhouse, Cuttingplant, Cold store |
| 28 | 413 | Les Viandes Canbec Plus Inc. | 11528 EBURNE WAY, MITCHELLISLAND WEST, RICHMOND, BC,Canada V6V 2G7 | Slaughterhouse, Cuttingplant, Cold store |
SPAIN SIF LIST
| | | | | |
| --- | --- | --- | --- | --- |
| No. | Approval No | Name of Plant | Address of Plant | Activities |
| 1 | 110.00092/TO | Campofrio Food Group S.A. | Ctra.,Toledo-Avila Km 27,4 Torrijos-Toledo | Processing Plant |
| 2 | 10.00159/H | Sanchez Romero Carvajal Jabugo S.A. | Ctra. San Juan Del Puerto S/N,Jabugo, Huelva | Slaughterhouse,Cutting Plant, Processing Plant,Cold Store |
| 3 | 10.00285/MA | FRIGORIFICOS ANDALUCES DE CONSERVAS DE CARNE,S.A. (FACCSA) | PLAZA PROLONGO, 2,CARTAMA, MALAGA | Slaughterhouse, CuttingPlant、Processing Plant,Cold Store |
| 4 | 10.00837/MA | MATADEROS INDUSTRIALES SOLER,S.A. (MISSA) | PLAZA PROLONGO, 1 CARTAMA, MÁLAGA | Slaughterhouse,Cutting plant, Cold Store |
| 5 | 10.01274/B | MAFRIGES SA | BARRI SERRALLONGA S/N,SANT VICENÇ DE TORELLO,BARCELONA | Slaughterhouse,Cutting Plant,Cold Store |
| 6 | 10.01293/B | PATEL S.A.U | CTRA.VIC-OLOT KM.11 L'ESQUIROL,BARCELONA | Slaughterhouse, CuttingPlant、Processing Plant,Cold Store |
| 7 | 10.01672/MU | ELPOZO ALIMENTACION, S.A. | AVDA. ANTONIO FUERTES Nº1,ALHAMA DE MURCIA, MURCIA | Slaughterhouse, CuttingPlant、Processing Plant,Cold Store |
| 8 | 10.02794/SA | IBERICOS TORREON SALAMANCA S.L. | PASEO DELICIAS 67, VILLARES DE LA REINA, SALAMANCA | Slaughterhouse, CuttingPlant、Processing Plant,Cold Store |
| 9 | 10.03935/GE | FRIGORIFICOS COSTA BRAVA S.A | CT DE RIUDELLOTS A CASSAS/N, RIUDELLOTS DE LASELVA, GIRONA | Slaughterhouse,Cutting Plant,Cold Store |
| 10 | 10.04425/GE | Friselva SA | Ctra. Nii, Riudellots De La Selva,Girona | Slaughterhouse,Cutting Plant, Processing Plant,Cold Store |
| 11 | 10.04664/SA | EMBUTIDOS FERMIN, S. L. | CARRETERA SALAMANCA, ALBERCA(LA), SALAMANCA | Slaughterhouse,Cutting Plant, Processing Plant,Cold Store |
| 12 | 10.09362/BA | MONTESANO EXTREMADURA S.A. | CTRA. N-435 KM 234 JEREZ DE LOS CABALLEROS, BADAJOZ | Slaughterhouse,Cutting Plant, Processing Plant,Cold Store |
| 13 | 10.10709/Z | The Pink Pig S.A | C/ FRANCIA, 50, PARC. 75 (POL.IND. EL CAMPILLO), ZUERA,ZARAGOZA | Slaughterhouse,Cutting Plan |
FRANCE SIF LIST
No.
Approval No.
Address of Plant
Name of Plant
Activities
1
FR 22.046.001 CE
KERMENE
KERMENE
Slaughterhouse,Cutting plant
2
FR 22.093.001 CE
COOPERL ARC ATLANTIQUE
COOPERL ARC ATLANTIQUE
Slaughterhouse,Cutting plant,Cold store
3
FR 22.136.006 CE
LOUDEAC VIANDES
LOUDEAC VIANDES
Slaughterhouse,Cutting plant
4
FR 29.026.010 CE
USINE DE TRANSFORMATION ZI DE LOSPARS 29150 CHATEAULIN
FRANCE POULTRY
Slaughterhouse,Cutting plant,Cold store
5
FR 29.027.001 CE
ZI 29520 CHATEAUNEUF-DU-FAOU
SOCOPA VIANDES
Slaughterhouse,Cutting plant
6
FR 30.233.001 CE
LD LAURET ET BARJAGOLE 30730 SAINT BAUZELY
DUC
Slaughterhouse,Cutting plant,Cold store
7
FR 35.125.002 CE
35 RUE DE LA BOUGEOIRE CS 51001 35130 LA GUERCHE DE BRETAGNE
GATINE VIANDES
Slaughterhouse,Cutting plant
8
FR 35.188.001 CE
BD DE L'ABBAYE 35160 MONTFORT SUR MEU
COOPERL ARC ATLANTIQUE
Slaughterhouse,Cutting plant
9
FR 35.257.002 CE
RUE VICTOR ROUSSIN BP 14 35460 SAINT BRICE EN COGLES
ETABLISSEMENTS ABERA
Slaughterhouse,Cutting plant
10
FR 50.453.007 CE
30 AV ARMAND LIGOT 50800 SAINTE CECILE
AIM GROUP
Slaughterhouse,Cutting plant
11
FR 53.097.001 CE
RTE DE VOUTRE 53600 EVRON
SOCOPA VIANDES
Slaughterhouse,Cutting plant,Cold store
12
FR 56.140.002 CE
KERBETHUNE BP 11 56500 MOREAC
SOCIETE BERNARD
Slaughterhouse,Cutting plant,Cold store
13
FR 64.305.002 CE
RTE DE BELLOCQ 64270 LAHONTAN
FIPSO INDUSTRIE
Slaughterhouse,Cutting plant,Cold store
14
FR 72.168.001 CE
LES EPINETTES 72540 LOUE
LDC SABLE-CAVOL
Slaughterhouse,Cutting plant
15
FR 72.264.002 CE
ZI SAINT LAURENT BP 88 72302 SABLE SUR SARTHE CEDEX
LDC SABLE
Slaughterhouse,Cutting plant
16
FR 79.195.003 CE
PARC ECONOMIQUE DE PROULIN 79250 NUEIL LES AUBIERS
GALLIANCE INDUSTRIE SEVRIENNE
Slaughterhouse,Cutting plant
17
FR 85.084.001 CE
BELLEVUE 85140 LES ESSARTS
ARRIVE
Slaughterhouse,Cutting plant
18
FR 89.069.001 CE
GRANDE RUE 89770 CHAILLEY
DUC
Slaughterhouse,Cutting plant,Cold store
19
FR 56.091.006 CE
ZONE INDUSTRIELLE LA BELLE ALOUETTE 56120 JOSSELIN
JOSSELIN PORC ABATTAGE
Slaughterhouse,Cutting plant,Cold store
20
FR 12.300.005 CE
AV DU 8 MAI 1945 12200 VILLEFRANCHE-DE-ROUERGUE
SALAISONS ET CONSERVES DU ROUERGUE
Slaughterhouse,Cutting plant,Cold store
21
FR 14.752.020 CE
12 BOULEVARD DU 21E SIECLE 14310 VILLERS BOCAGE
BROCELIANDE - ALH
Natural Fermentation and Maturation, Dry Cured
22
FR 64.010.003 CE
RTE DE SAUVETERRE 64120 AICIRITS CAMOU SUHAST
HARAGUY-JAMBON DE BAYONNE
Canned, cooking
23
FR 49.215.004 CE
ZA DE L'EUROPE 49260 MONTREUIL BELLAY
SALAISONS BERNAUDEAU
Heat processed porkmeat / Cooking pork meat
24
FR 29.233.001 CE
KERGOSTIOU BP 53 29300 QUIMPERLE
GROUPE BIGARD
Slaughterhouse,Cutting plant,Cold store
25
FR 79.246.002 CE
ZI DE VERDEIL 79800 SAINTE-EANNE
COOPERL ARC ATLANTIQUE
Slaughterhouse,Cutting plant
26
FR 81.004.011 CE
ZA DE JARLARD RUE HENRI MOISSAN 81000 ALBI
COMPAGNIE MONTAGNE NOIRE
Processing Plant
27
FR 72.264.005 CE
AV JEAN MONNET 72300 SABLE-SUR-SARTHE
CHARAL
Slaughterhouse,Cutting plant,Cold store
28
FR 42.129.001.CE
ZI LES JACQUARDS 42520 MACLAS
AOSTE SNC OU A SNC
Processing Plant
29
FR 07.197.004 CE
LC SALAISONS EN ARDECHE
LAPRAS 07100 ROIFFIEUX
Processing Plant



GERMANY SIF LIST
No.
Approval No.
Name of Plant
Address of Plant
Activities
1
DE BW 01102 EG
Beck GmbH & Co. KG
Flurweg 2174635 KupferzellBaden-Württemberg
Slaughterhouse,Cutting plant andCold store
2
DE NW-ES 202 EG DE EZ 917 EG
Tönnies Lebensmittel GmbH &Co. KG
In der Mark 233378 Rheda Wiedenbrück
Slaughter house,Cutting plant
3
DE - NI 10078 EG
Böseler Goldschmaus GmbH &Co. KG
Industriestr. 10-12 49681 Garrel
Slaughter house,Cutting plant
4
DE ES 161 EGDE EZ 494 EG
Brand Qualitaetsfleisch GmbH& Co. KG
Brandstr. 2149393 Lohne
Slaughter house,Cutting plant
5
DE ES 265 EGDE EZ 320 EG
Westfleisch SCE mbHFleischcenter Coesfeld
Stockum2,48653 Coesfeld
Slaughter house,Cutting plant
6
DE NI 11906 EG
Danish Crown Fleisch GmbH
Waldstraße 7, 49632 Essen/ Oldenburg
Slaughterhouse,Cutting plant andCold store
7
DE ES 249 EGDE EZ 206 EG
Westfleisch ErkenschwickGmbH
Industriestr.8-14,45739 Oer-Erkenschwick
Slaughter house,Cutting plant
8
DE ES 996 EGDE EZ 996 EG
VION Perleberg GmbH
Buchholzer Chaussee 24,19348 Perleberg
Slaughter house,Cutting plant
9

DE ES 691 EGDE ST 00691 EG

DE EZ 688 EGDE ST 00688 EG

DE EZ 688 EGDE ST 00689 EG

Fleischwerk Weißenfels GmbH

Tönnies Zerlegebetrieb GmbH

Am Schlachthof 1 06667 Weißenfels

Slaughterhouse, Cutting plan, Cold store

10
DE BW 01117 EG
CDS Hackner GmbH
Rossfelder Str. 52/574564 Crailsheim
Cutting plant,Cold store
11
DE NI 11806 EG
VION Emstek GmbH
Wilhelm-Bunsen-Str.15,49685 Emstek
Slaughterhouse,Cutting plant
12
DE BY 21143 EG
Vion Vilshofen GmbH
A&A Logistik NiederlassungderGrass-Merkur GmbH & Co. KG
Slaughterhouse,Cutting plant
13
DE NI 20658 EG
Weidemark Fleischwaren GmbH& Co.KG
Aidenbacher Straße 78 94474 Vilshofen
Slaughterhouse,Cutting plant
14
DE EK 917 EG
Tönnies Lebensmittel GmbH & Co. KG
Industriestraße 11 49751 Sögel
Slaughterhouse,Cutting plant
15
DE - NI 10033 EG
GTH GmbH & Co. KG
In der Mark 233378 Rheda-Wiedenbrück
Slaughterhouse,Cutting plant
16
DE EK 67 EG
NORDFROST GmbH & Co. KG
Im Industriegelände 2533775 Versmold
Slaughterhouse,Cutting plant
17
DE EK 152 EG
Nordfrost GmbH & Co. KG
Wiesendamm 129378 Wittingen
Slaughterhouse;Cutting plant; Cold Store
18
DE NI 11201 EG
FHG FleischandelsgesellschaftmbH
Wiesendamm 129378 Wittingen
Slaughterhouse;Cutting plant; Cold Store
19
DE NW-EK103 EG
Coldstore Hamm GmbH
Kranstr. 3459071 Hamm
Slaughterhouse;Cutting plant; Cold Store
20
DE ST 00300 EG
A&A Logistik NiederlassungderGrass-Merkur GmbH & Co. KG
Magdeburger Chaussee 43, 06118Halle/Saale
Slaughterhouse;Cutting plant; Cold Store
21
DE NI-EK 549 EG
SFB Fleisch- und Kühlcentrale GmbH & Co. KG
Magdeburger Chaussee 43, 06118Halle/Saale
Slaughterhouse;Cutting plant; Cold Store
22
DE NI 10565 EG
SFB Fleisch- und KühlcentraleGmbH & Co. KG
Industriestr. 22 49451 Holdorf
Slaughterhouse;Cutting plant; Cold Store
23
DE NI 10048 EG
Westfleisch SCE mbH -Fleischcenter Dissen
Am Bahnhof 549201 Dissen a. T. W.
Slaughterhouse;Cutting plant; Cold Store
24
DE EK 40135 EG
Nordfrost GmbH & Co. KG
MainstraBe 11141469 Neuss
Cold Store
DENMARK SIF LIST
| | | | |
| --- | --- | --- | --- |
| Approval No. | Name of Plant | Address of Plant | Activities |
| 14 | DANISH CROWN, Blans | Langbro 7,6400 Sønderborg | Slaughterhouse,Cuttingplant |
| 22 | DANISH CROWN, Rønne | Haslevej 19,3700 Rønne | Slaughterhouse,Cuttingplant |
| 25 | DANISH CROWN, Ringsted | Bragesvej 18 , 4100 Ringsted | Slaughterhouse,Cuttingplant |
| 31 | DANISH CROWN, Herning | Danmarksgade 22,7400 Herning | Slaughterhouse,Cuttingplant |
| 53 | DANISH CROWN, Esbjerg | Gammelby Ringvej 1,6700 Esbjerg | Cuttingplant |
| 71 | DANISH CROWN, Saeby | Wenbovej 11,9300 Saeby | Slaughterhouse,Cuttingplant |
| 320 | DANISH CROWN, Horsens | Østbirkvej 2,8700Horsens DK | Slaughterhouse,Cuttingplant |
| 338 | Tican Fresh Meat A/S | Strandvejen 6,7700 Thisted | Slaughterhouse,Cuttingplant |
| 801 | SB PORK A/S | Markedsvej 9 | Slaughterhouse,Cuttingplant |
| 865 | DanePork A/S | Tørskindvej 19, 7183 Randbøl | Slaughterhouse,Cuttingplant |
| 211 | Tulip Food Company A/S | Mosevangen 1, DK-9230 Svenstrup | Process |
| 260 | Atria danmark A/S | Aage Jensen Bakken 1, 8700 Horsens | Process |
| 65 | Tulip Food Company A/S | Tulipvej 10, DK-7100 Vejle | Process |
| 101 | Claus Sørensen A/Safd Padborg | Visherredsvej 2, 6330 PadborgColdstore | cold store |
| 170 | Agri-Norcold A/S | Park Alle 17, 6600 VejenColdstore | cold store |
| 175 | Claus Sørensen A/S Bellingeafdeling | Kratholmvej 6, 5260 Odense SColdstore | cold store |
| 177 | Agri-Norcold A/S | Industrivej 2, 6330 PadborgColdstore | cold store |
| 178 | Padborg Frysehus | Industrivej 10, 6330 PadborgColdstore | cold store |
| 180 | Claus Sørensen A/S | Industrivangen 27-31, 7730 HanstholmColdstore | cold store |
| 188 | Claus Sørensen A/S afd.Engesvang | Løhdesvej 15, 7442 EngesvangColdstore | cold store |
| 192 | Agri-Norcold A/S | Birkedam 11,Harte, 6000 KoldingColdstore | cold store |
| 377 | Agri-Norcold A/S | Skivevej 43, 9500 HobroColdstore | cold store |



NETHERLANDS SIF LIST


| | | | | |
| --- | --- | --- | --- | --- |
| No. | Approval No. | Name of Plant | Address of Plant | Activities |
| 1 | NL-028-EG | Van Rooi Meat B.V. | Roggedijk 4; 5704 RH Helmond | Slaughterhouse, Cutting plant, Cold store |
| 2 | NL-61-EG | VION Boxtel B.V | Boseind 10, 5281 RM, Boxtel, The Netherlands | Slaughterhouse,Cutting plant |
| 3 | NL-82-EG | VION Scherpenzeel B.V | 't Zwarte Land 13 3925 CK Scherpenzeel | Cutting plant, Cold store |
| 4 | NL-109-EG | Gebr. van der Mey Vers Vlees B.V. | Edisonstraat 16, 2171 TV Sassenheim | Cutting plant, Cold store |
| 5 | NL-121-EG | Compaxo Vlees Zevenaar B.V. | Edisonstraat 48, 6902 PK Zevenaar | Slaughterhouse, Cutting plant, Cold store |
| 6 | NL-194-EG | Lunenburg Vlees B.V. | Elzenweg 15-17 3421TT, OUDEWATER | Cutting plant |
| 7 | NL-292-EG | F.Wellink Lekkerkerk B.V. | Jan Tomstraat 10, 2941 CD, Lekkerkerk, The Netherlands | Cutting plant |
| 8 | NL-307-EG | Van Rooi Meat B.V. | Kanaaldijk zuid 2; 5712 BJ Someren | Cutting plant |
| 9 | NL-312-EG | VION Apeldoorn B.V. | Laan van Malkenschoten 77 7333 NP Apeldoorn | Slaughterhouse,Cutting plant |
| 10 | NL-367-EG | VION Groenlo B.V. | Den Sliem 8,7141 JH, Groenlo, The Netherlands | Slaughterhouse,Cutting plant |
| 11 | NL-908-EG | Westfort V.O.F. | Avelingen –West 25, 4202MS Gorinchem. | Slaughterhouse |
| 12 | NL-3603-EG | Westfort Vleesproducten | Kamerlingh Onneslaan 18, 3401 MZ,IJsselstein, The Netherlands | Slaughterhouse, Cutting plant, Cold store |
| 13 | NL-5009-EG | Grolleman Coldstore B.V. | Ecofactorij 14, 7325 WC Apeldoorn | Slaughterhouse, Cutting plant, Cold store |
| 14 | NL-9-EG | Ekro B.V. | Laan van Malkenschoten 100, 7333 NP Apeldoorn | Slaughterhouse, Cutting plant, Cold store |
| 15 | NL149EG | Ten Kate Vetten B.V. | Handelsweg 22, 9563 TR, Ter Apelkanaal, The Netherlands | Processing |
| 16 | NL138EG | Sonac Eindhoven B.V. | Meerenakkerweg 7, 5652 AR, Eindhoven, The Netherlands | Processing |
| 17 | NL 59 EG | Smilde Foods B.V | De Kuinder 7, 8444 DC Heerenveen, The Netherlands | Processing |
| 18 | NL-514-EG | Vriescentrale Asten B.V. | Laagveld 1 5721 VV Asten | Cold Store |
| 19 | NL-515-EG | Blokland Cold Stores Cuijk B.V. | Simon Homburgstraat 14 5431 NN cuijk, NL | Cold Store |
| 20 | NL-584-EG | Lau van Haren Coldstores B.V. | Metaalweg 15, 6551 AC Weurt, NL | Cold Store |
| 21 | NL-584-EG | Exportslachterij J. Gosschalk en Zn. b.v. | Oenerweg 2-4, 8161 PM,Epe,The Netherlands | Slaughterhouse,Cutting plant |
| 22 | NL-575-EG | Prins Op-en Overslag B.V. | Van Markenstraat 13,2931 BX,Lekkerkerk,The Netherlands | Cold Store |
| 23 | NL-214-EG | PALI Geldrop B.V. | Industriepark 10, 5663 PG, Geldrop, The Netherlands | Slaugterhouse, Cutting plant |
| 24 | NL-375-EG | Gebroeders Stroomberg B.V. | Kraanmeester 7-9, 6004 RR, Weert, The Netherlands | Cutting plant |
| 25 | NL-208108-EG | Coldservice Warehouse N.V. | De Amert 401-403, 5462 GH, Veghel, The Netherlands | Cold Store |
| 26 | NL-87-EG | Vion Tilburg B.V. | Enschotsestraat 28, 5013 BD Tilburg, The Netherlands | Slaughterhouse, Cutting plant, Cold store |
| 27 | NL-451-EG | Koel- en Vrieshuis Lintelo B.V. | Albert Schweitzerstraat 25, 7131 PG Lichtenvoorde, The Netherlands | Cold store |
| 28 | NL-34-EG | T. Boer en Zonen B.V. | 's Gravenweg 114, 2911 CJ Nieuwerkerk ad Ijssel, The Netherlands | Slaugter house, Cutting plant |
Documents
Chicken Feet Paw Wing Specification and Requirement
FSIS Eligible Plant List for Exporting to China (JULY 27 2021)