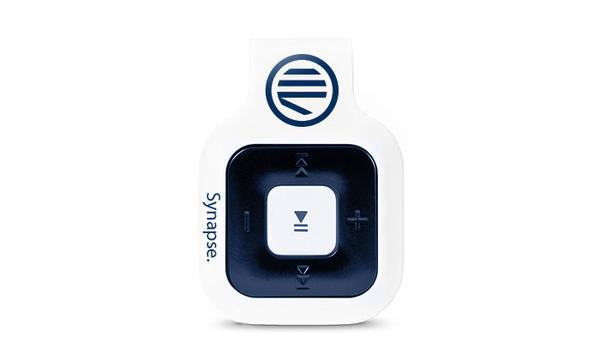 Check out the Synapse Mark I here Let's be honest, wireless headphones aren't as cool as our favourite headphones. With the IIVO Synapse, you can easily stream you favourite tracks without being bound by your cable. All you need to do is connect the IIVO Synapse to your smartphone by bluetooth, plug your favourite headphones into the synapse and you're on your way. The Synapse has a built in remote control allowing you to skip and pause songs without having to even interact with your phone. If your headphones have a microphone, you can happily take calls as well on the go! Slipping easily into a pocket or purse, this compact Bluetooth-enabled pod streams audio from smartphones to headphones or speakers. A 3.5mm input connects to headphones or a car's auxiliary input to make music streaming a plug-and-play affair. External playback controls, meanwhile, allow users to pause tracks and take or hang up phone calls quickly. Connects to smartphones via Bluetooth Streams music and phone calls Integrated playback controls Compact design 3.5mm output connects to headphones or car auxiliary ports High-capacity batteries Dimensions: 1.2"x1.7"x0.75"
Free Your Music
Never get in a tangle again. With wireless calls and music straight from your Bluetooth device, you can placed Synapse. anywhere up to ten metres away from your phone, making your gym sessions just that little bit easier. The 100 hour battery life* means no more daily device charging worries either! *Synapse. battery is tested for 100 hours in standby mode and allows up to five hours of talk time.
Serious About Sound
Synapse. lets you make calls, hear audio books and, of course, listen to the latest music on your device using high-quality Bluetooth audio streaming. Stylish, in-ear buds are also included to optimise Synapse.'s awesome sound, making this tiny package a must have accessory for those who are serious about on-the-go music. Enjoy music just about anywhere, but especially where the tangle of wires running from head to toe is more than just a little inconvenient.
Small but Mighty
Synapse. is tiny. Measuring just 32mm across, it slips discreetly onto a shirt collar or over a coat fold. Its subtle, understated design is a fashion statement in its own right, making it the perfect complement to any outfit, whether you're at the gym, trekking across rugged mountain terrain or making your way into the city for a night out. With the majority of the front face reserved for styled and tactile controls, you can change your music, pump up the volume or answer your calls without digging for your phone.
Features
Bluetooth-enabled Synapse. supports Hi-Fi sound with advanced background noise-reduction and echo canceller.
Listen to music, make calls, discover audio books, and receive GPS navigation prompts.
Over five hours talk time and 100 hours standby battery capacity.
Ten metre Bluetooth range for comfortable, wire-free listening.
Technical Specification
Bluetooth Version 4.0
Supports A2DP/HFP/HSP
Radio Frequency: 2.4GHz
Power Charger: AC Input 110-240V / DC Output 5V
Delivery USA - FREE - 3-5 days using USPS UK - FREE- 2-4 days using Royal Mail EU - FREE - 3-10 days using Belgium Post/Royal Mail Returns Quibble-free 14 day return policy. If you've got an issue with your product let us know and we'd be happy to replace it immediately or refund it should it be faulty/damaged. Customer service is available 24/7 to support any issues you may experience.