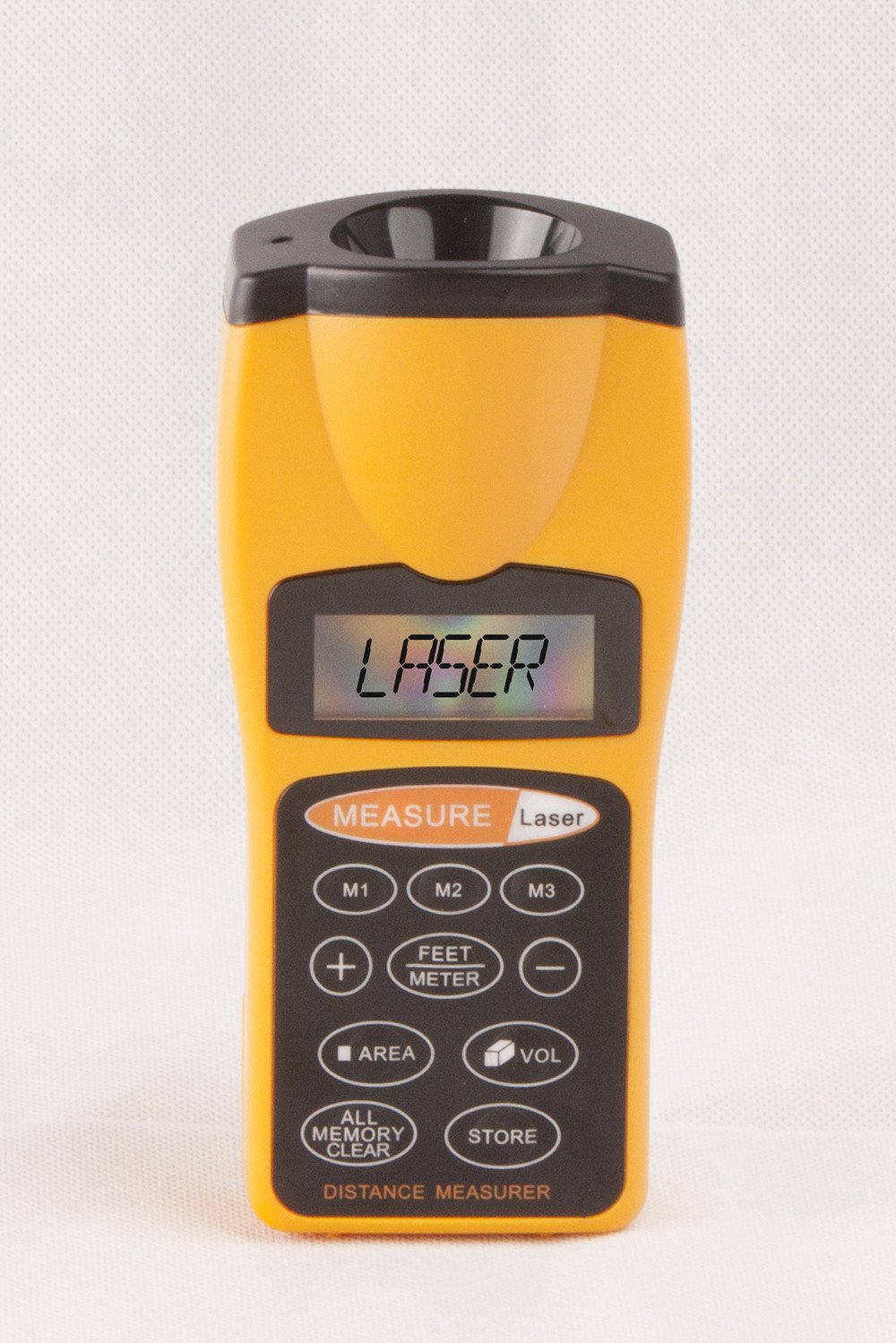 This measuring device uses ultrasonic to determine distances. It is quick and easy to use and can measure distances in a straight-line from 0.91 metre to 15 metre with the measurements being displayed on the LCD screen with a luminous background. There is also a facility to calculate the area of a room. A laser pointer is also included.
Features
Laser pointer included
Uses ultrasound
Foot/Metre function button
LCD screen on a luminous background
Auto stop: switches off if you do not press any key for 4 min.
Memory: allows you to measure and to store 3 different measures
Calculation of area and volume.
Addition and Subtraction function: allows you to add or subtract 2 measures. 
Clearing of memory function: allow you to delete quickly all the measures stored. 
Correction of errors: the distance measurer indicates that a distance measured is either too long, or too short. 
Power supply: 1 x 9V Alkaline type 6LR61 Battery (Not included) 
Units of Measure: Feet/Metres 
Accuracy: +/-0.5% 
Frequency: 40 kHz (ultrasonic pickup) 
Working temperature: 0to 43 
Range: 0.5m to 20m 
Colour: Yellow 
Dimensions (H-P-l): 115 x 73 x 47mm 
Weight (without battery): 112.6g 
Laser beam: Wattage 1mW (mW =milliwatt) 
Wavelength: 650nm (nm =nanometer)
Delivery  
Delivery within the UK mainland is £2.99 and will be delivered with Royal Mail or similar. Please refer to our delivery & refunds for more information. Please allow up to seven days for delivery.  
Delievery within the US is $4.95.
Delivery is €4.95 to Ireland and EU

Returns 
We offer a 14 day return policy. Faulty items will be replaced free of charge. Unwanted items may be refunded if the original contents remain within their original packaging and the refund claim has been initiated within the 14 day refund period. Refunds will be issued once the items have been inspected by our delivery team. Customers must arrange their own delivery or contact us to arrange delivery (this will incur a surcharge and will be deducted from the refund amount issued once the items have been inspected).
Images are for illustrative purposes only.